We went to the Sydney Fish Market the day after the tiring trip to Blue Mountains. Owhh... I was really excited to eat as much seafood as I wanted there hehe ;)
We decided to walk to the fish market from our hotel instead of taking public transportation. It would've taken us about 30 minutes, if not for the few stops on the way there... But we did reach there 3 hours after we left the hotel... Why? We stole time to visit the Princess Diana Exhibition! What a exceptional show about her life!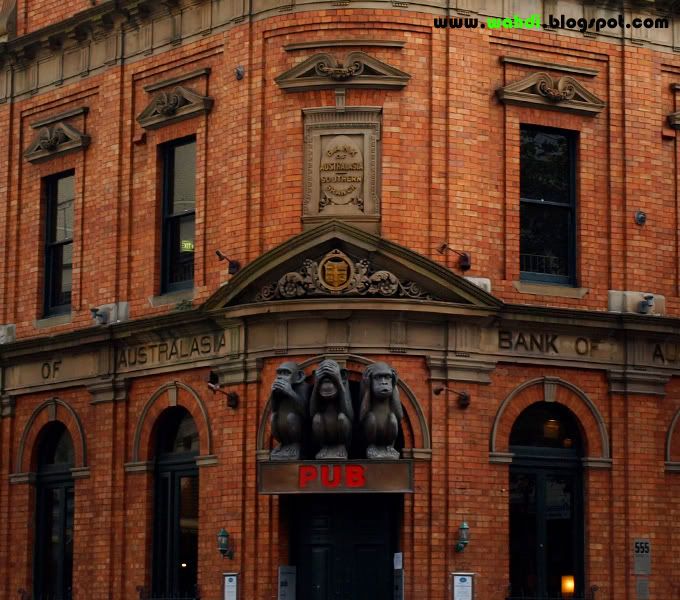 The Bank of Australasia building. I was actually taking shots of a coffee signboard nearby, but a homeless man shouted at me and said, "There are monkies jist abov' there, and u should take their pic!" His chuckle hid the bitter bite of pre-winter cold...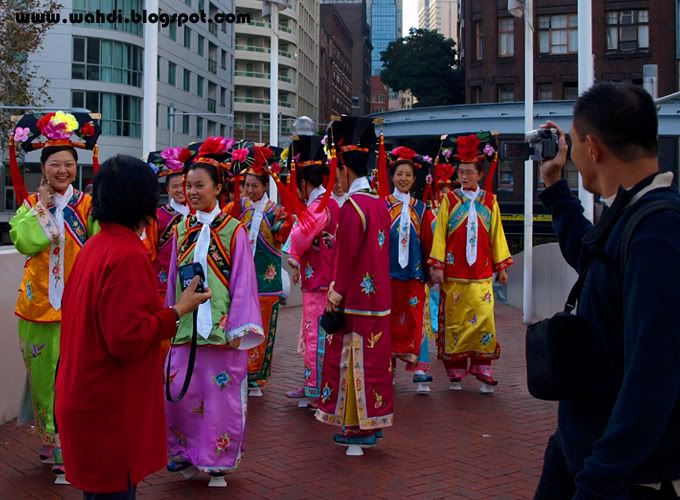 We walked toward Darling Harbour, and bumped into this group of Chinese ladies (concubines?). They were headed for some Buddhist celebration just outside the Chinese Garden of Friendship...
After a 15-minute walk, we took a rest at the Chinese Garden of Friendship...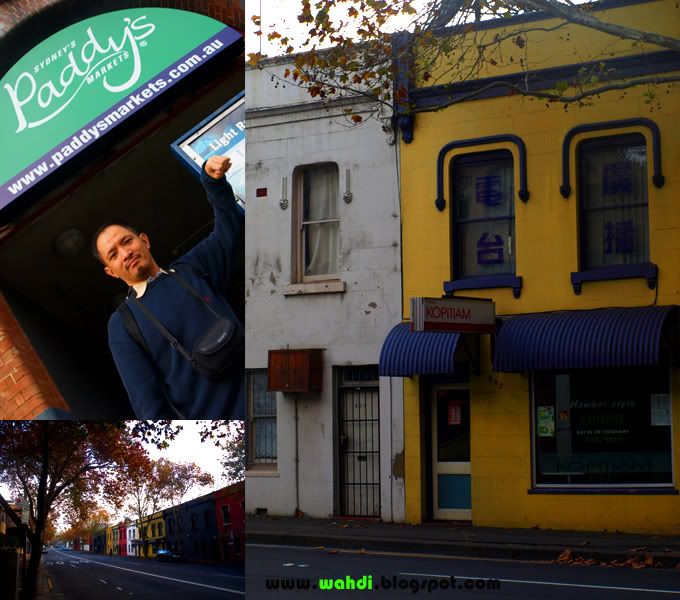 We continued walking... and the traffic was so clear... We managed to visit Paddy's Markets, too...
What a shocking delight! There was a Princess Diana exhibition at the Powerhouse Museum. This is a must! While the exhibition at London's Kensington Palace was mainly to showcase her glittery costumes, this one was more about her life as an aristocrat, a princess, and a commoner... Too bad no cameras were allowed inside ,We spent almost one hour here.
Finally, we reached the Sydney Fish Market! These were the shop lots outside the fish market...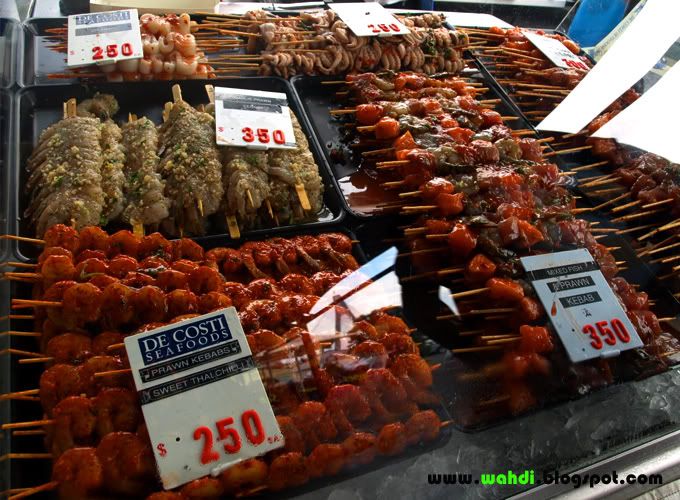 Owh!! A must-try seafood kebab!!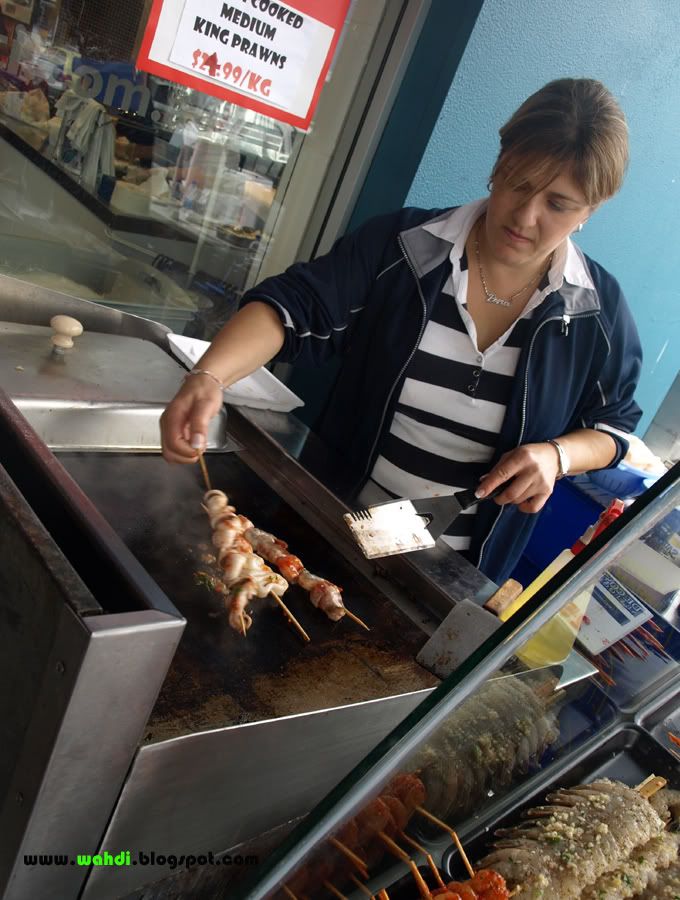 The lady gave us a discount, We had 6 pcs per person...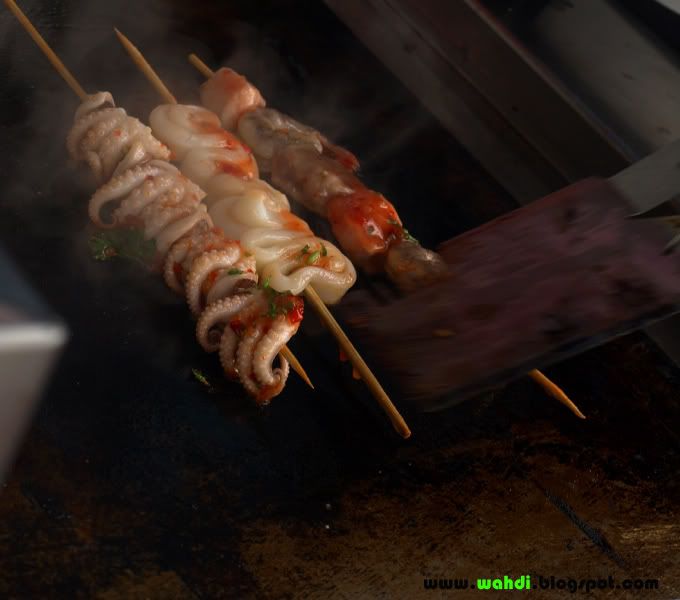 Great service too, she grilled the sticks one side at a time, and served them hot! Yummy!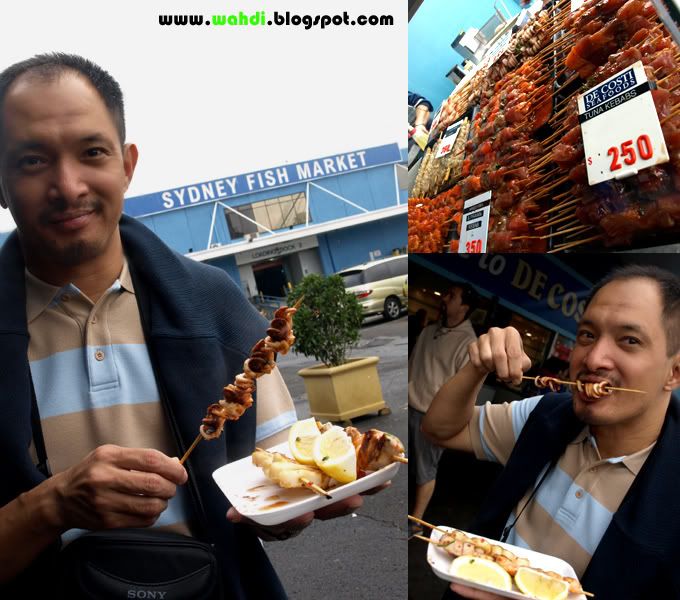 En Arip beating the heat to finish his 1st helping...yummy kan, En. Arip?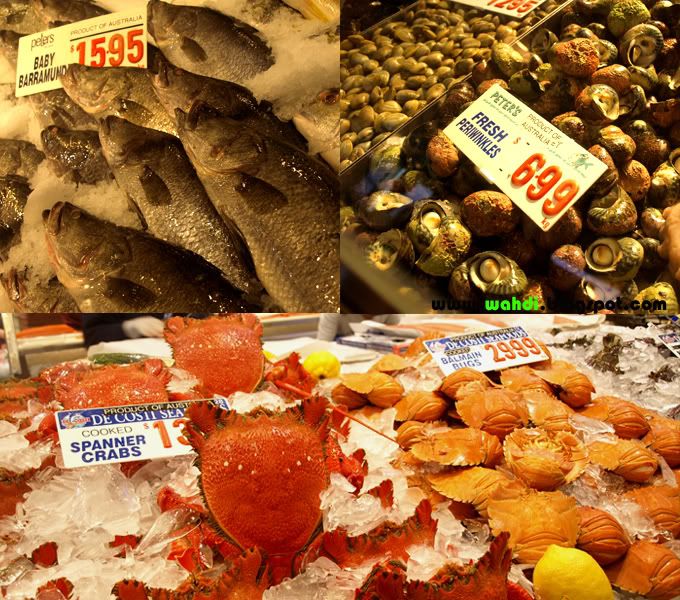 Sea harvest on racks...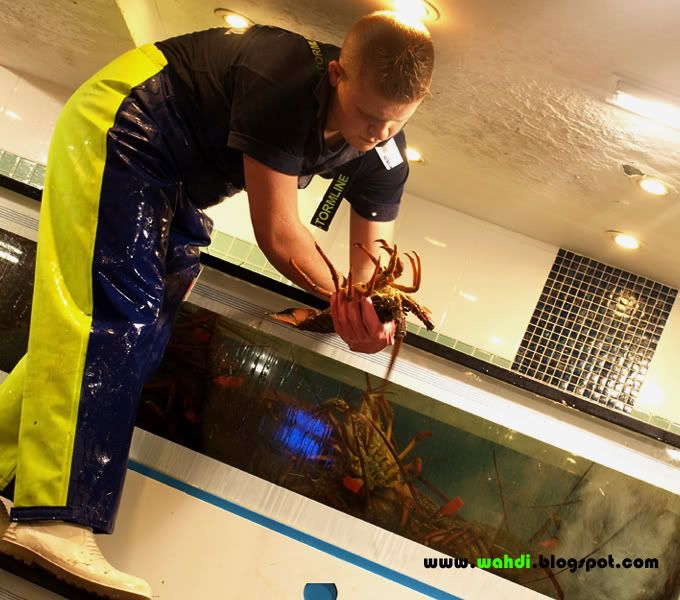 We went on to have a lobster!
We had the lobster half baked in cheese, and the other grilled on a hot plate. Cost us just AUD28!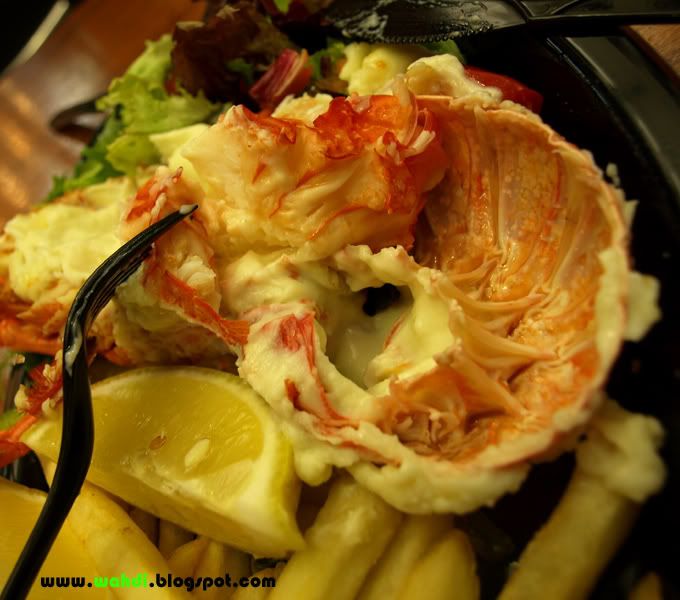 It was so worth it! The lobster was juicy and fresh!
We shared a grilled barramundi... so devinely delicious! This one was only AUD23.
We continued exploring the fish marked, and had coffee at this cafe, but it did not taste so good... En Arip's macchiato shot was overly strong.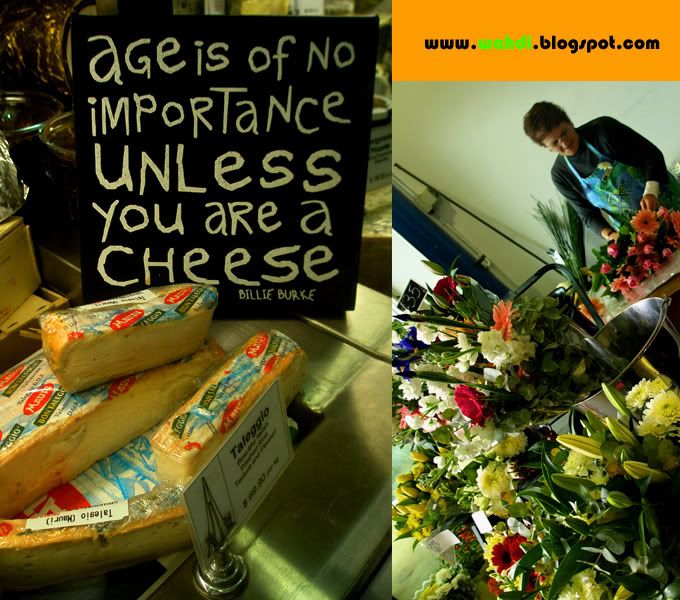 And the exploration continues... What a cute tagline for the cheese!!!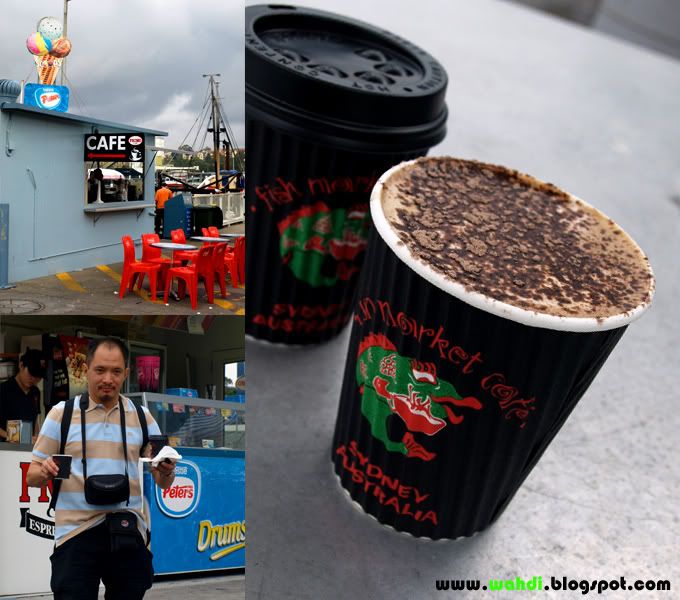 Actually, the best coffee served at the Sydney Fish Market could be found at this little kiosk...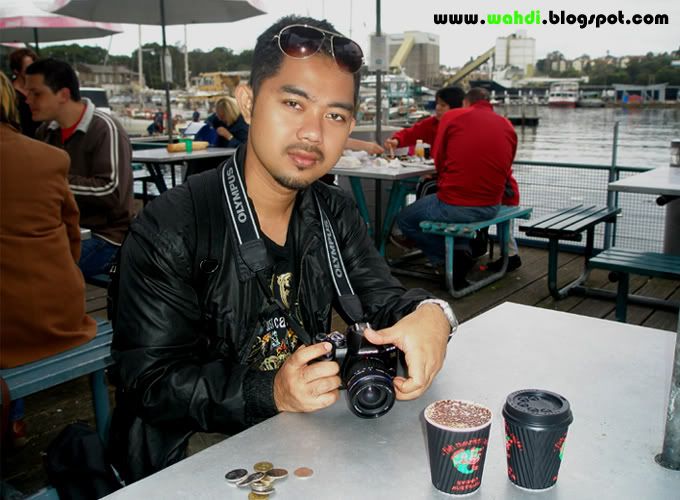 I was full by this time... Btw the coffee here were really good!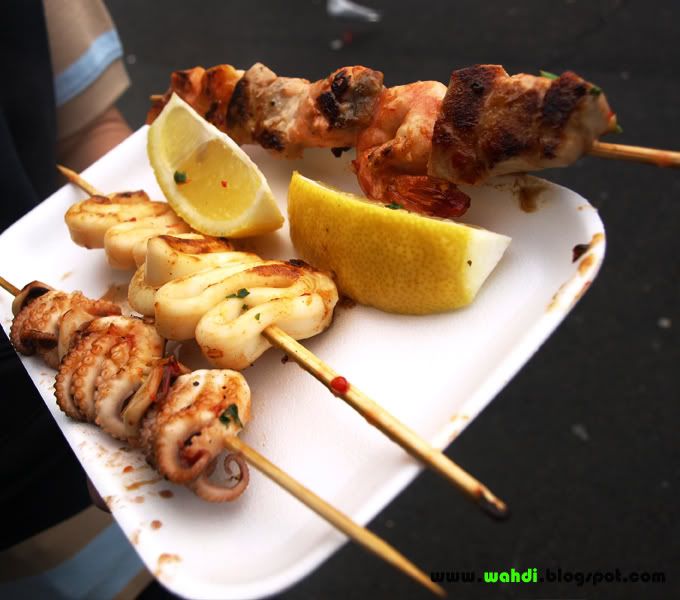 But, we had kebab again for one last round before we left the fsh market... Haiyoh cannot tahan lah...so yummy!!!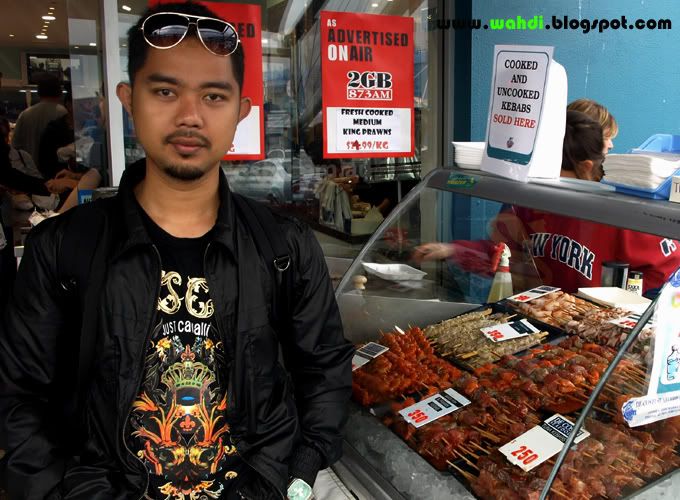 The cashier luv my "just Cavalli" t-hirt so much! Huhuhu...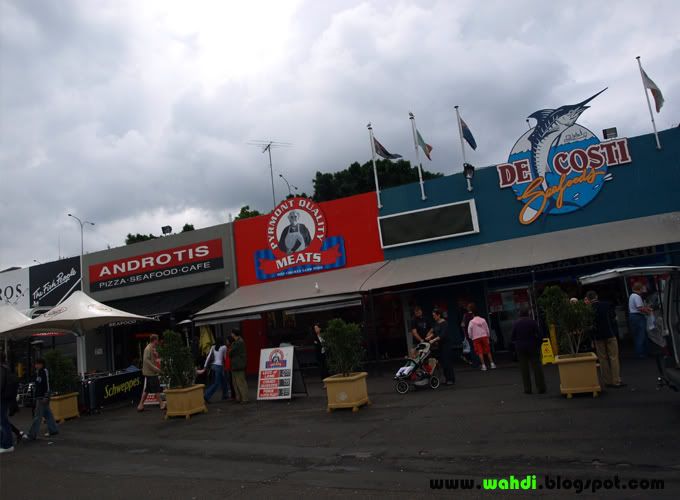 And we left the fish market after spending almost 2 and a half hours there... What a must-visit in Sydney!
The fall of the Chinese concubine, huhu watch the clip below ;)
Queen Victoria Building.
We left Sydney Fish Market by tram, and headed for Darling Harbour. Oowh... by then my stomach was already totally full! I could hardly breathe and walk!:P
So from there, we walked to a few popular places and malls until we ended up at our hotel for our prayers and rest. We went on a night cruise on the Parramatta river!
Among the many malls, Queen Victoria Building (QVB) is still my favourite in Sydney. Owwh, I read on a board somewhere on the 3rd floor that the renovation and modernization they were carrying out on the building, some parts of the building will be painted in blue. What??? Blue?? err.... Btw, the coffee at QVB's JET Sydney cafe was really great! *kembung kopi
Darling Harbour by the Cockle Bay.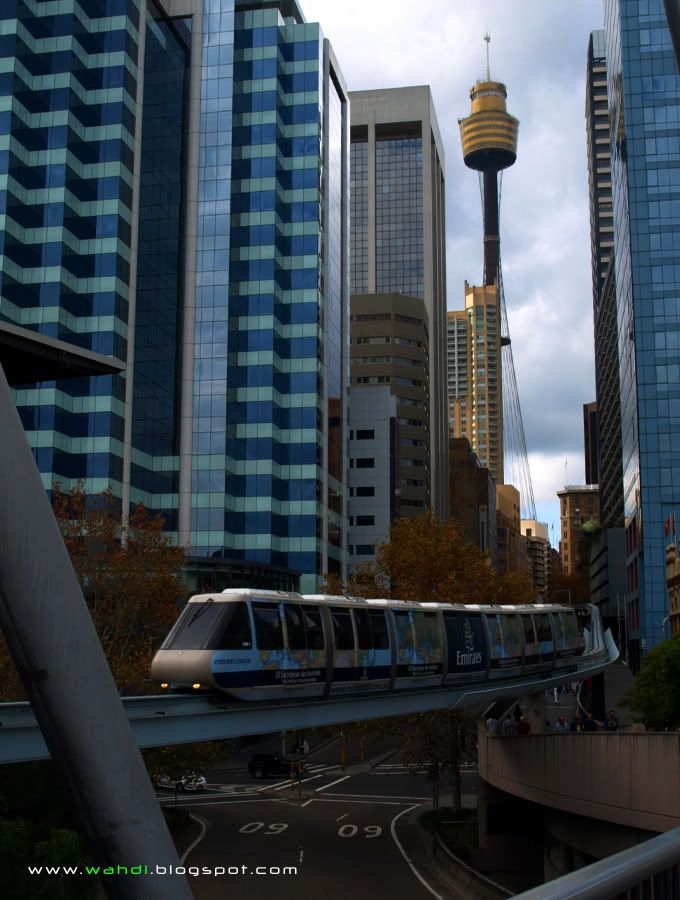 Sydney Tower. Both En Arip and I have gone up there during our previous trip, so we decided to not bother on this trip. *pic taken by Me.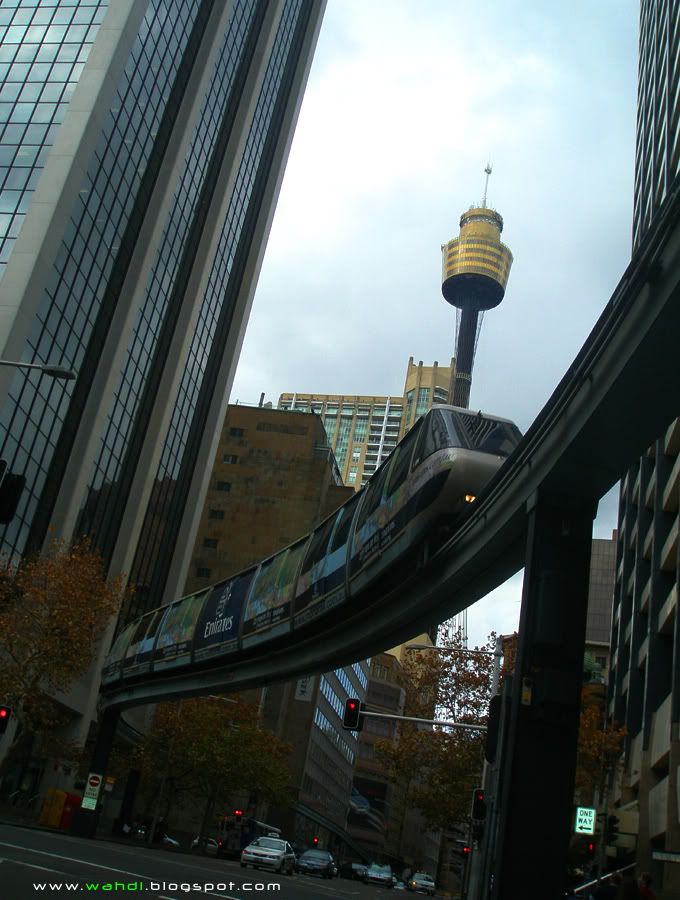 Sydney Tower. *pic taken by En. Arip.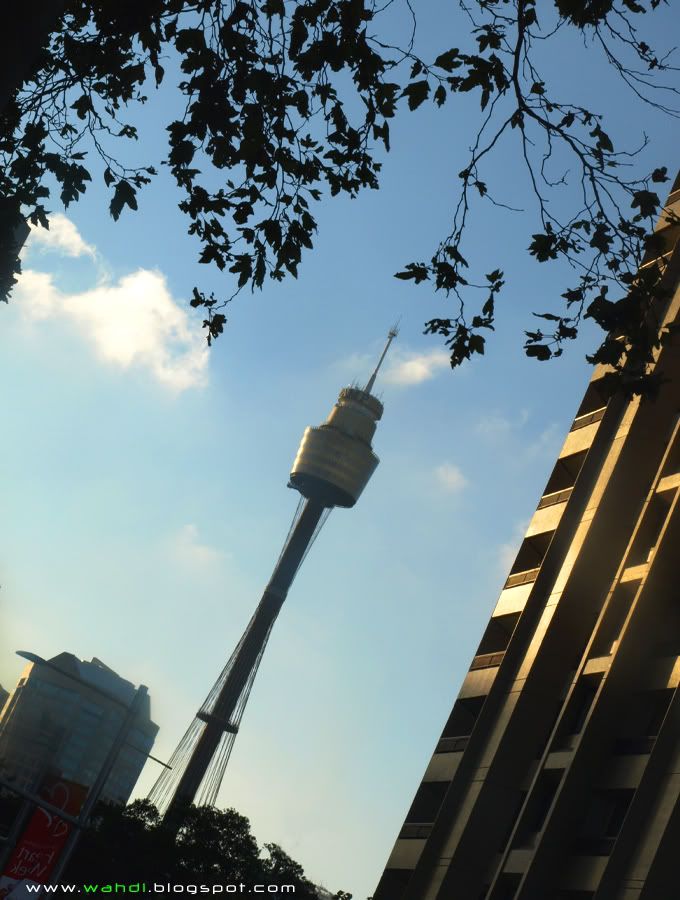 I just love the tone of this pic; the brown and blue stripes of En Arip's shirt blended well with the surroundings..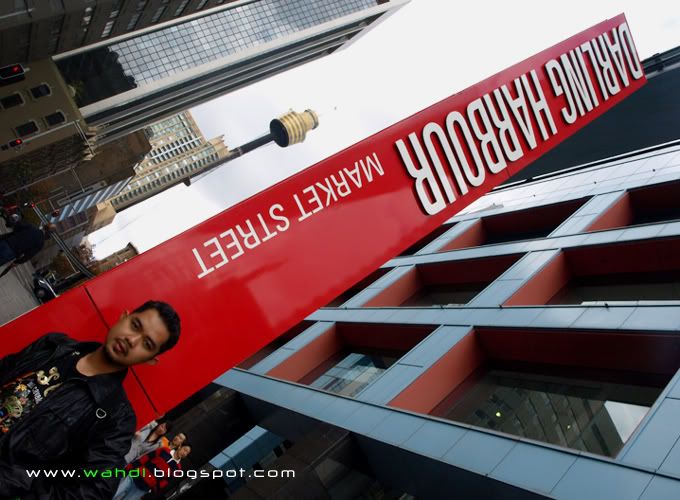 While En. Arip was taking this shot, another homeless man yelled out at me; " Smile!!! You're in Sydney!!" Oowhh I bumped into two friendly homlessmen in a single day... seem they were really proud of their city so much!
The York Street side of the QVB...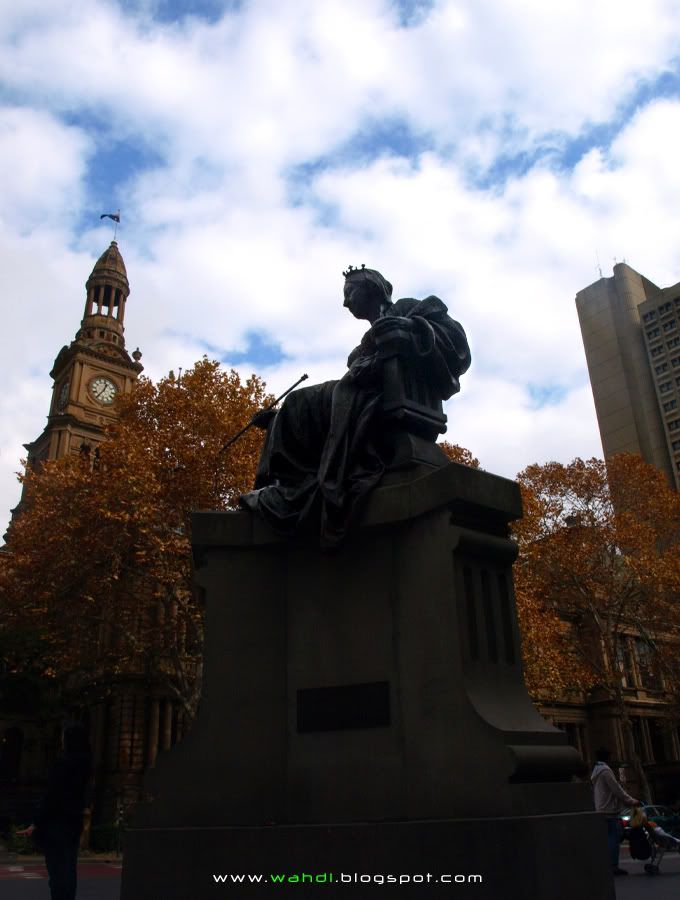 The front of the QVB, facing the Sydney Town Hall - the other fabulous building around...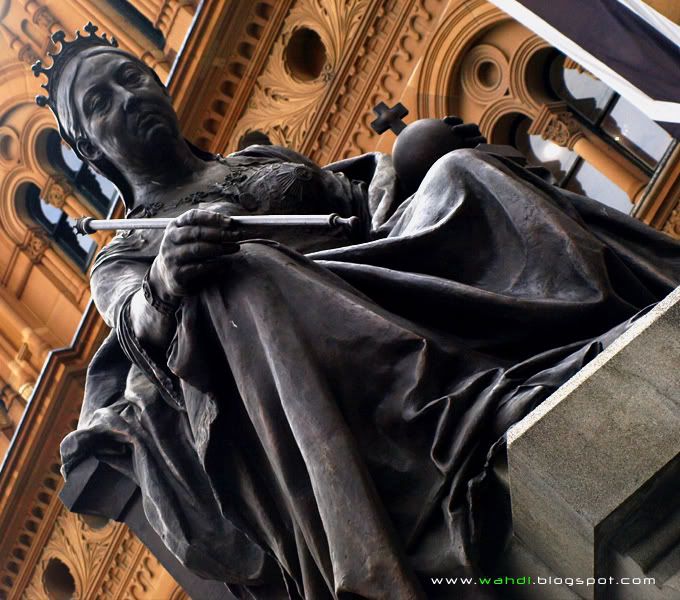 The grand matriach of British monarchy, Queen Victoria. If you think she looked rather sulky, that's because she went into depressed mode after her Albert died. Albert was her husband, not her dog huhu :P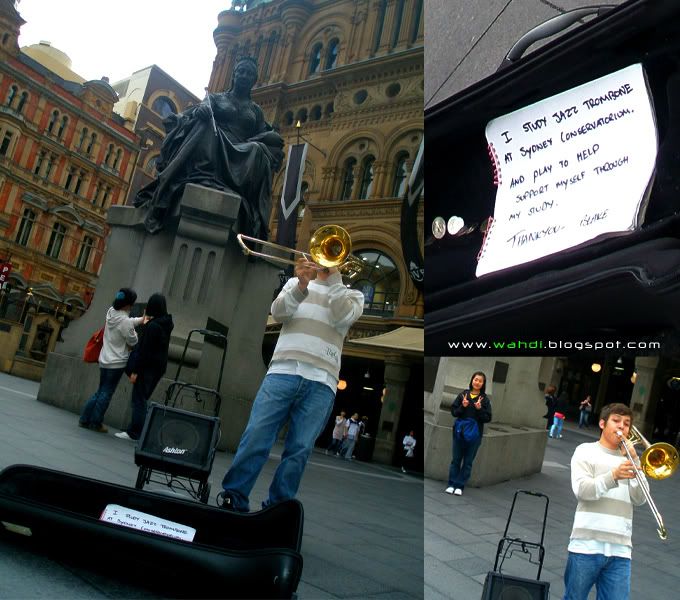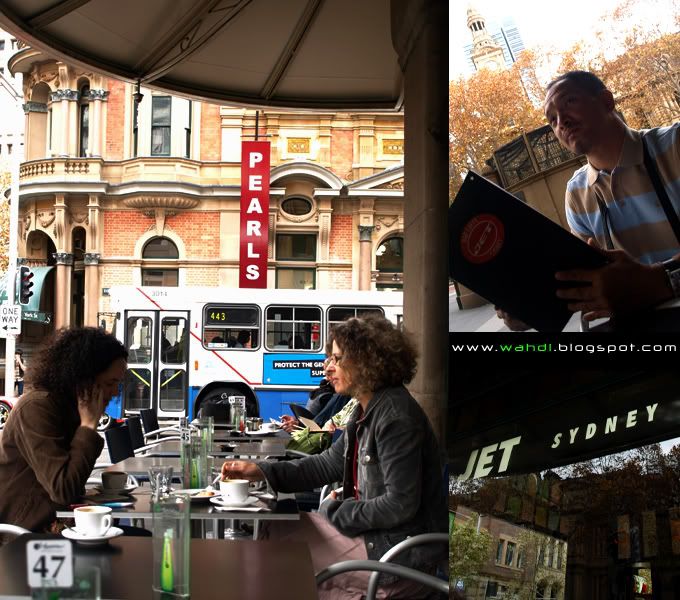 Another En Arip's coffee rendezvous... But JET Cafe really knows how to pull a nice, slicky shot!
Coffee again, Yummy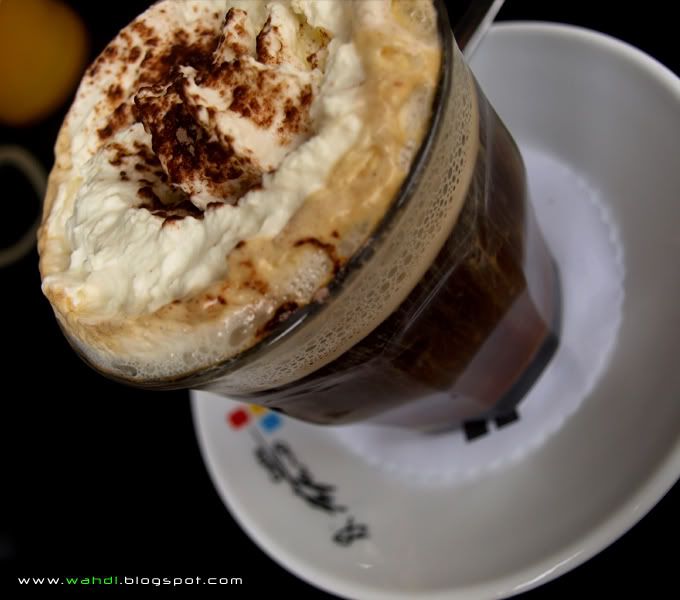 Big yum!
*errr kat pic ni br perasan bibir cawan tu mcm comot LOL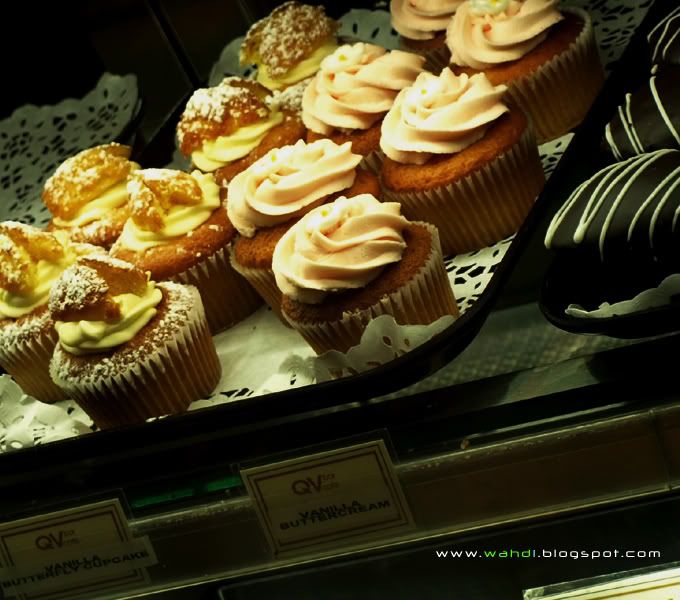 Cup Cakes! Pastry for tea was from the QV Bar Cafe inside the building. Their cream puffs were the best in the world! Creamy and smooth... or simply "Orgasmic!", as En Arip puts it...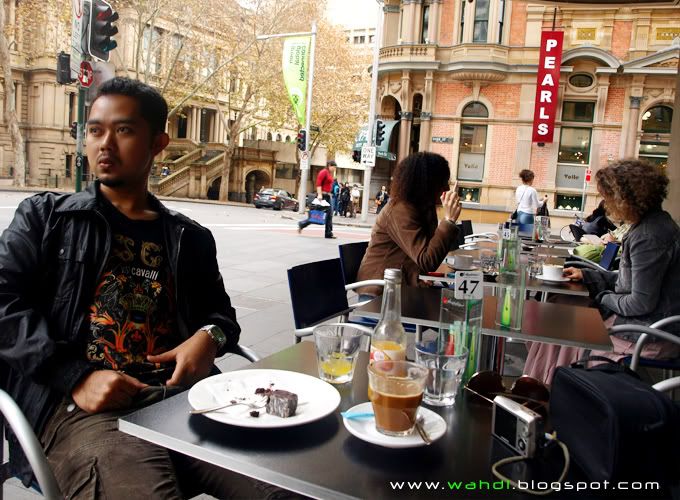 Really luv the coffee they served here... luv the surroundings, too...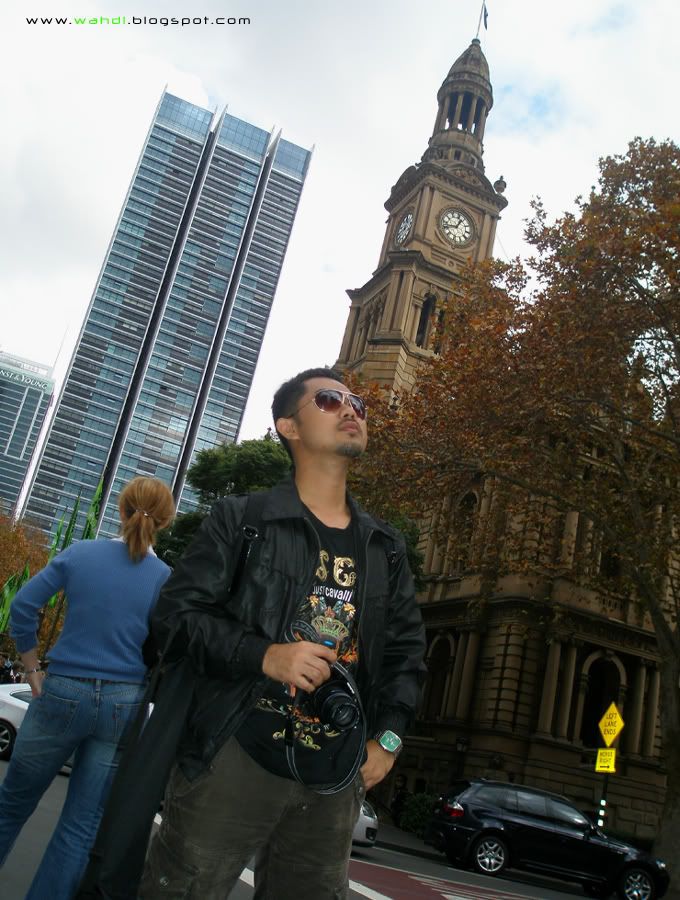 The lovely Sydney Town Hall building in the back... I am amazed at how well they have preserved this building.
The majestic Queen Victoria Building... We came back the next evening ;)
En Arip filming the nice evening buzz...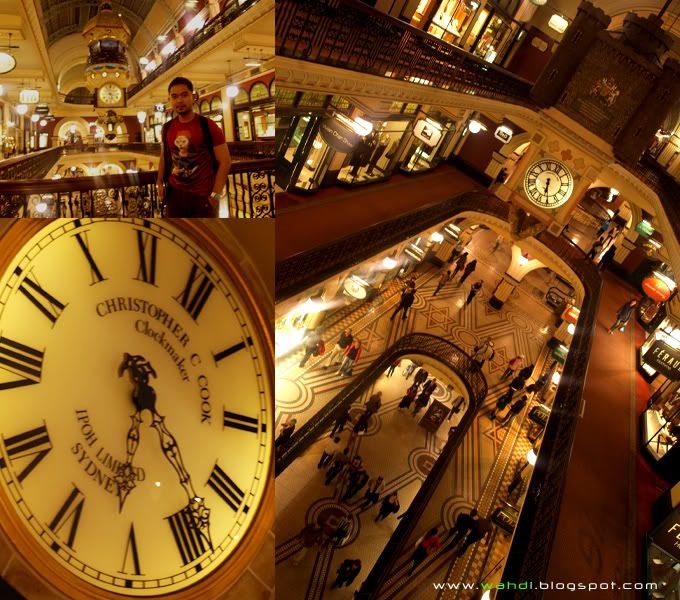 The interior. Noticed the "Ipoh Limited" on the clock? Yeah the last restoration in 1997 had been done by a Malaysian Company : Ipoh Garden Berhad, or IGB.
Antiques at every corner u turn *including En.Arip opsss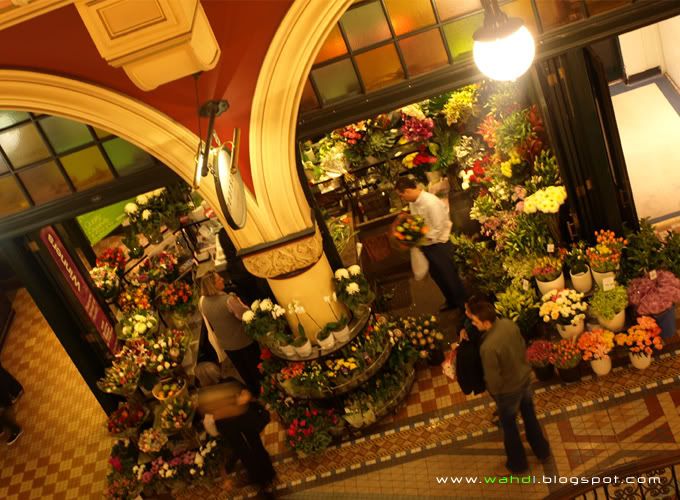 Little florist shop on the ground level...nice...
Below is a short clip I've taken from En Arip's DVDcam. Take note of the Royal Automata Clock (turret clock)...
Following the hourly Westminster chimes, the clock displays a moving Royal Pageant, showing six famous events from the pages of British history, namely King Henry's reign, King John signing the Magna Carta, and the knighting of Sir Francis Drake...