Everyone loves fish, I guess... It happens to be my all-time favourite meat! And the more simple we prepare the fish, the more juicy we're going to have it. Am I not right?
Instead of having it elaborately steamed with mixed pickles and a dazzle of lemon, my much preffered style is the "
masak singang
" - fish in turmeric soup. It's actually a traditional Malay-Javanese recipe.
My parents have a very strong Javanese backgrounds, so it shows in our daily meals during my childhood. In fact, mum specializes in Javanese recipes! And one of them is the singang fish (Ikan Masak Singang.)
I went to the
Marche
to get the most imporatant ingredients - the fish and fresh turmeric.

This is what I had for my dinner, Ikan Masak Singang.
All you need to prepare this fish soup are:
1 fish (your choice!)
1 clove of garlic
2 small onions
1/2 thumb size of kunyit (turmeric)
1 chilli (pits removed)
1 dried asam keping or u can replace with 2 spoonfuls of lemon juice.
1 bowl of water
To prepare:

1. Pound clove, small onion and turmeric in a mortar.

2. Heat up the pan and put 2 tablespoons of oil. Fry the pounded ingredients till fragrant and pour in the water and asam keping.

3. Leave the pan of the water to boil. Once boiled, reduce the flame and put in the fish, salt,sugar and turmeric leave (optional). I couldn't find the leaf here :(.

Slow-cook until the fish is well done, and serve it hot.

Anyway, in some other versions they include ginger and other spices; but I am not really into it.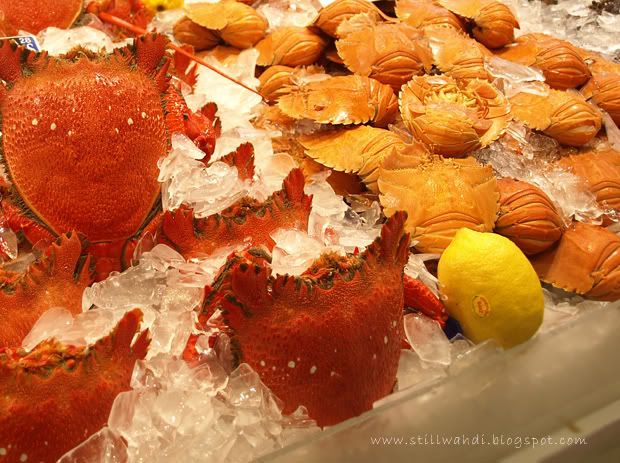 Spanner Crabs and Balmain bugs... I just love the color combination when they were put side by side. I have planned to cook Balmain Bugs in spicy coconut milk (Balmain Bugs Masak Cili Api) one day!