Suffer Paradise.
Anyway, the few days we were at Gold Coast, we were already down at the beach as early 6.0AM - just to pass time, do some reading, enjoying the beautiful daybreak, and to have breakfast by the beach before we start the day... Of course, we did some photography, too! Such wonderful days... Here are some pics...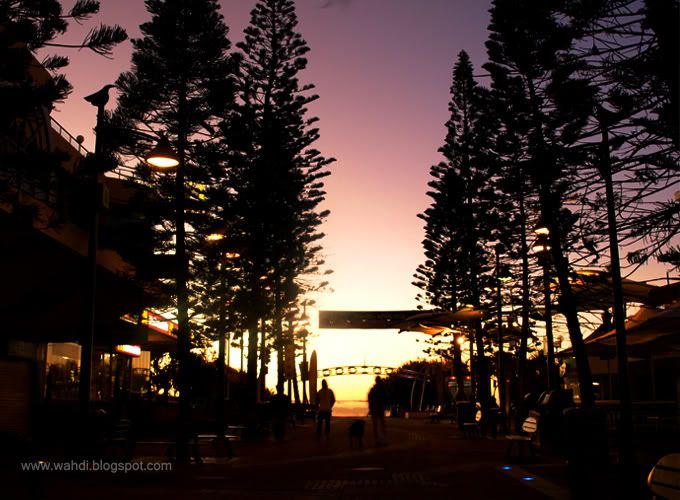 We weren't the first ones to wake up Surfers Paradise!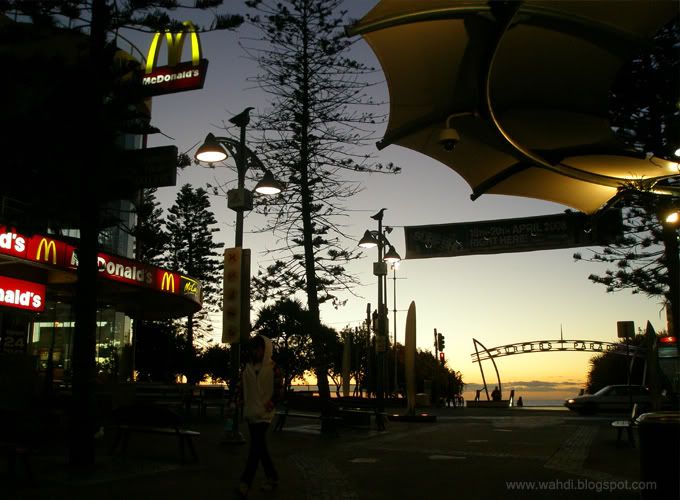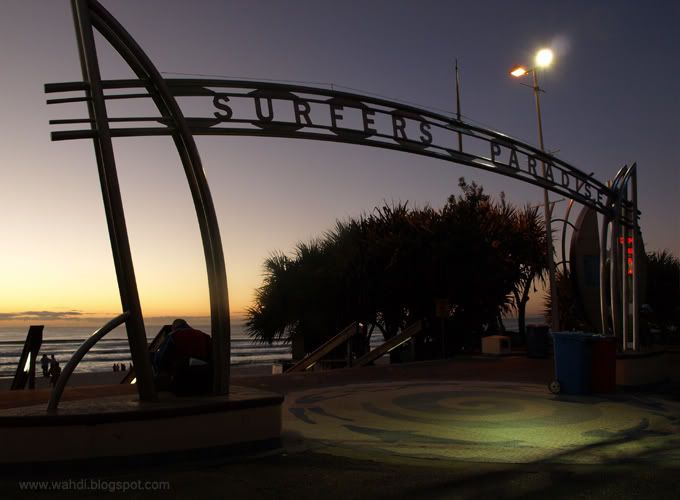 The famous Surfers Paradise arch...
Each morning, the "beachcomber" truck tidies up the beach by picking up the sand and sieve it to extract any rubbish...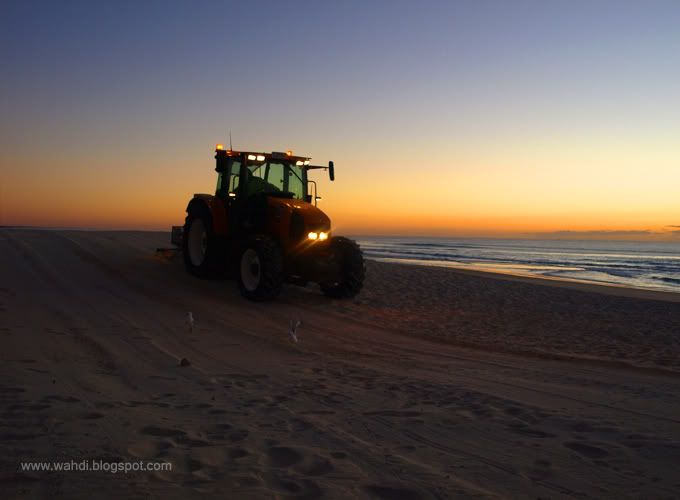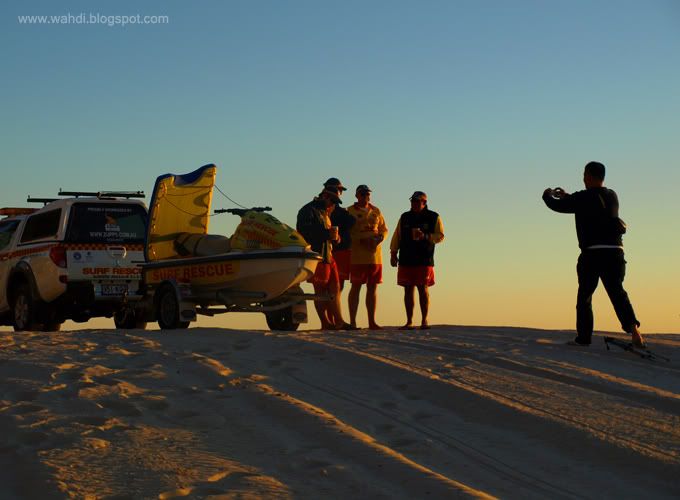 En Arip harrassing some lifeguards to pose for him...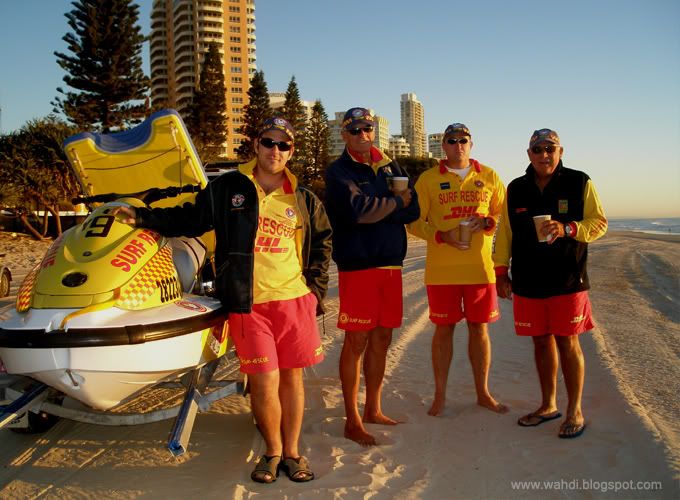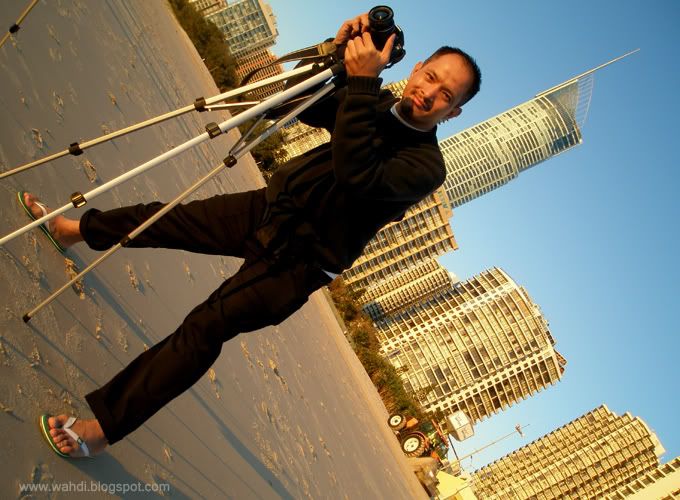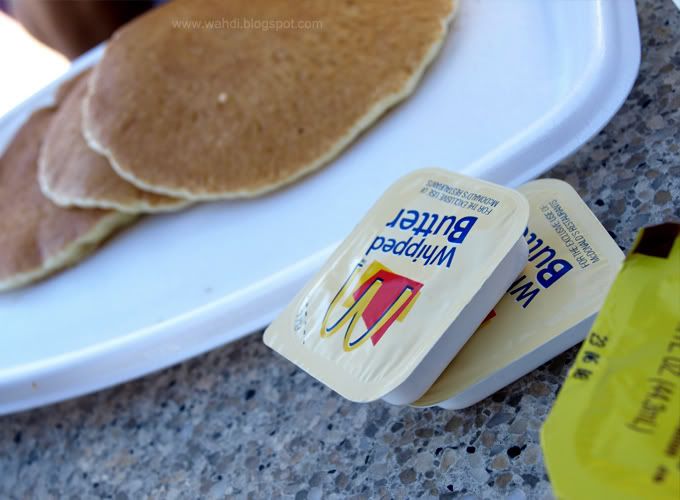 Breakfast at the nearby McCafe...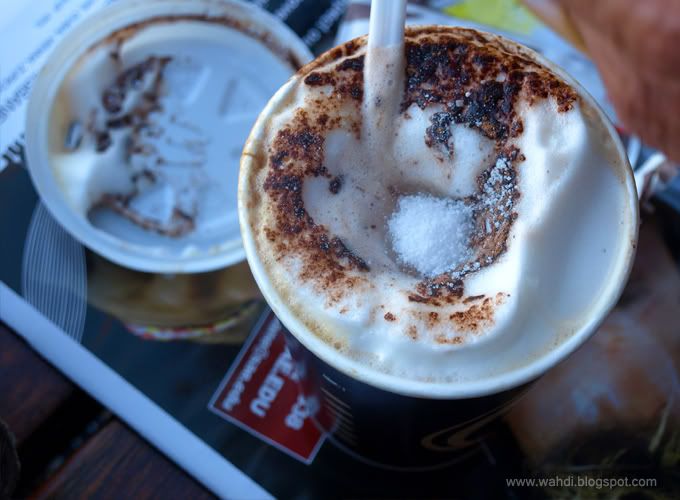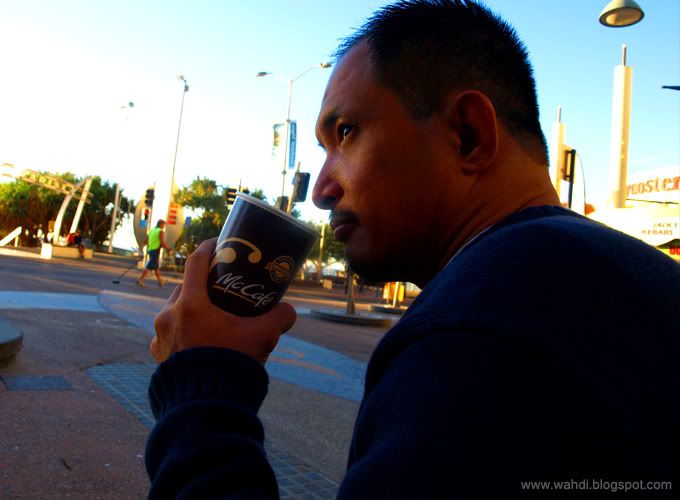 Cavill Avenue

I luv Cavill Avenue... Everything I needed was easily within reach just across the main road from my hotel... It's a great place to relax in, or to do your shopping! But it wasn't as happening as it used to be - they had lost thier very own identity to all the redevelopment going on... but it was still o.k!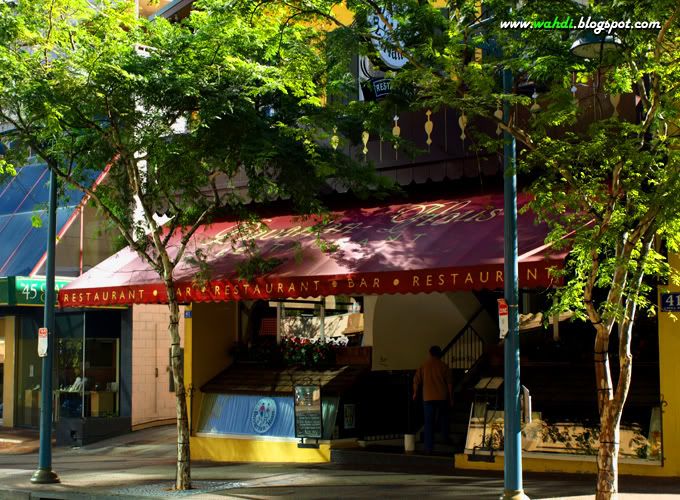 I like the pasta here...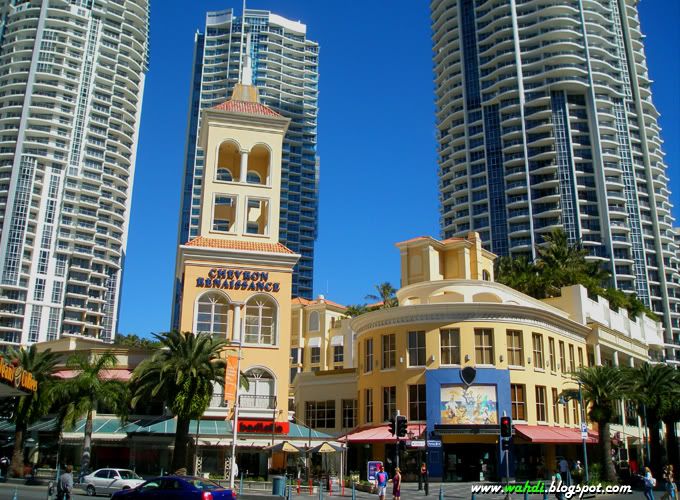 Classic facade of the Chevron Renaissance twin towers. This mall leads to a nice courtyard full of cafes, bars and eateries...




Healthy palms lining the streets... I soooo remember Miami Beach here!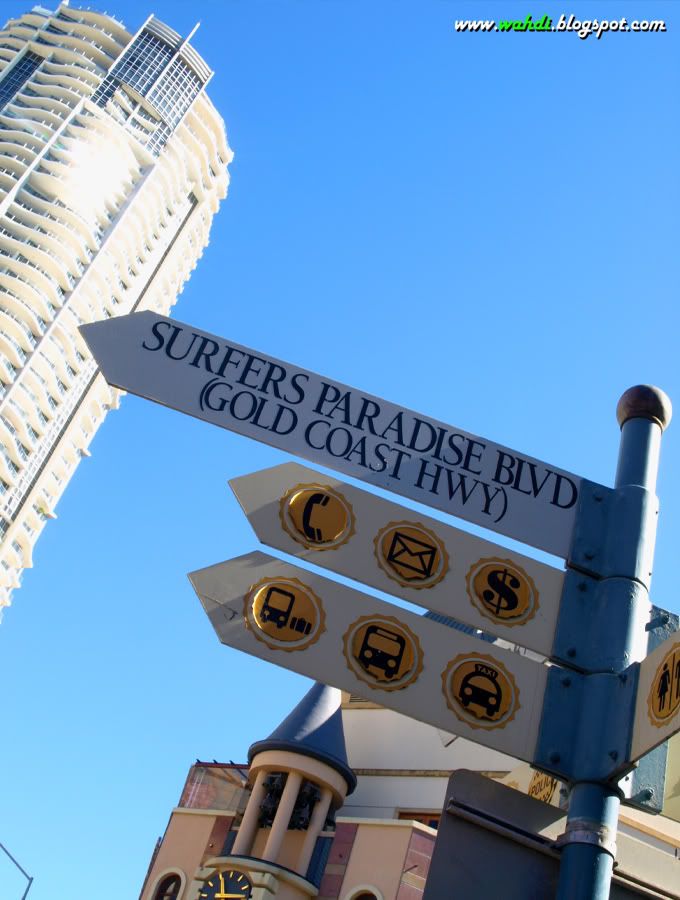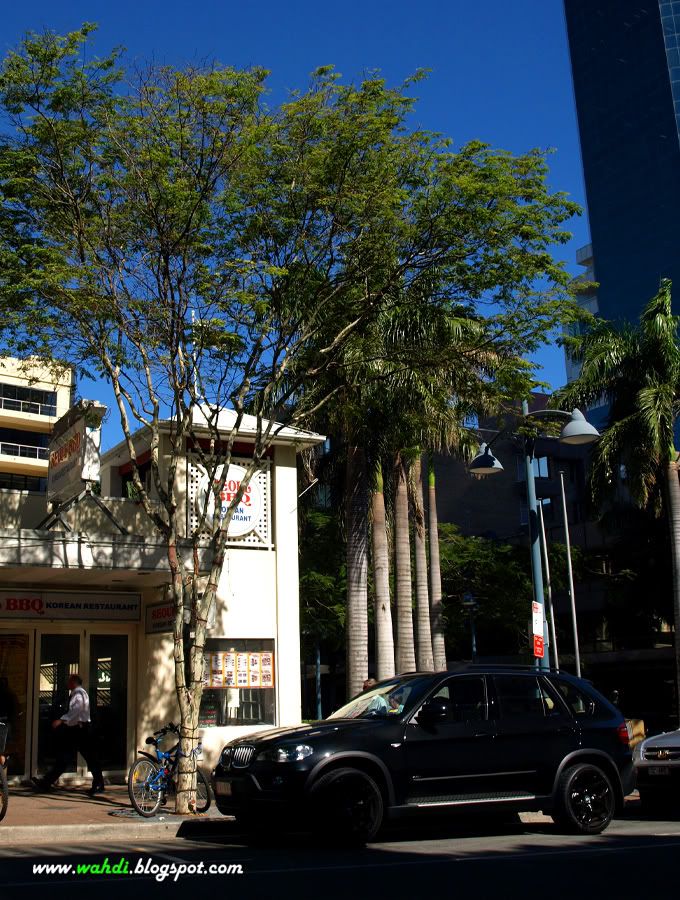 Fast-paced world but a laid-back lifestyle... that's what I like about Gold Coast.




This gigantic sign was visible even from our room!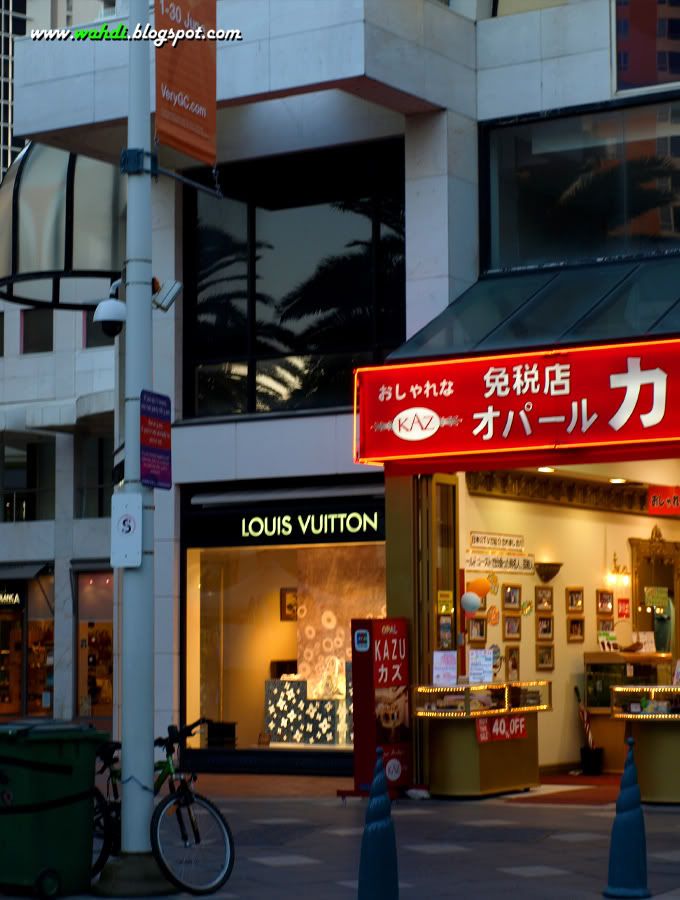 LV taraf2 kedai runcit je... heheh




Shopping paradise... U name it, they have it! Duty-free shopping!




En Arip's favourite spot, the Chevron Renaissance courtyard.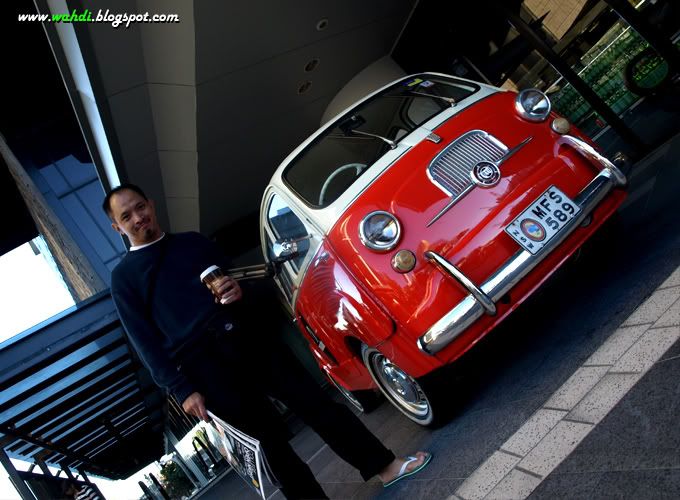 Vintage meets vintage...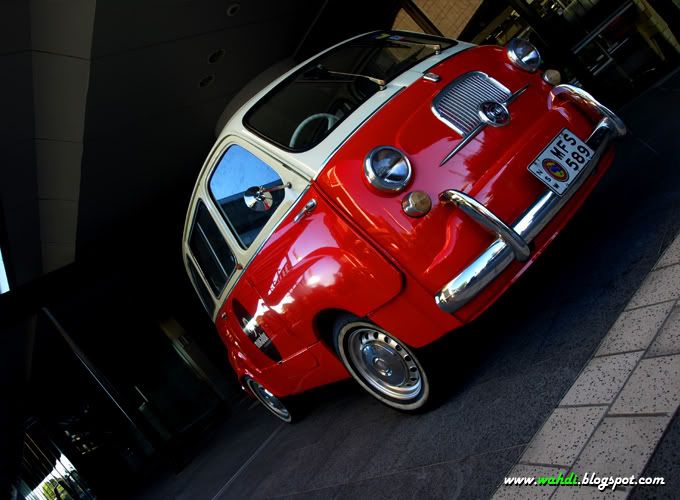 A Fiat 600!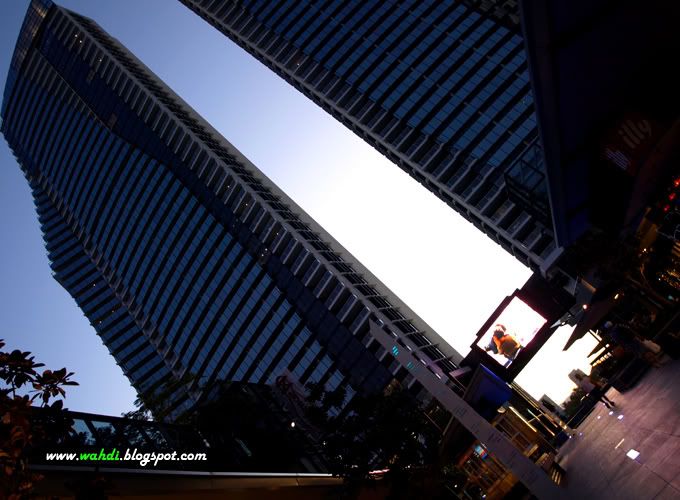 Chevron Renaissance twin towers at sunset...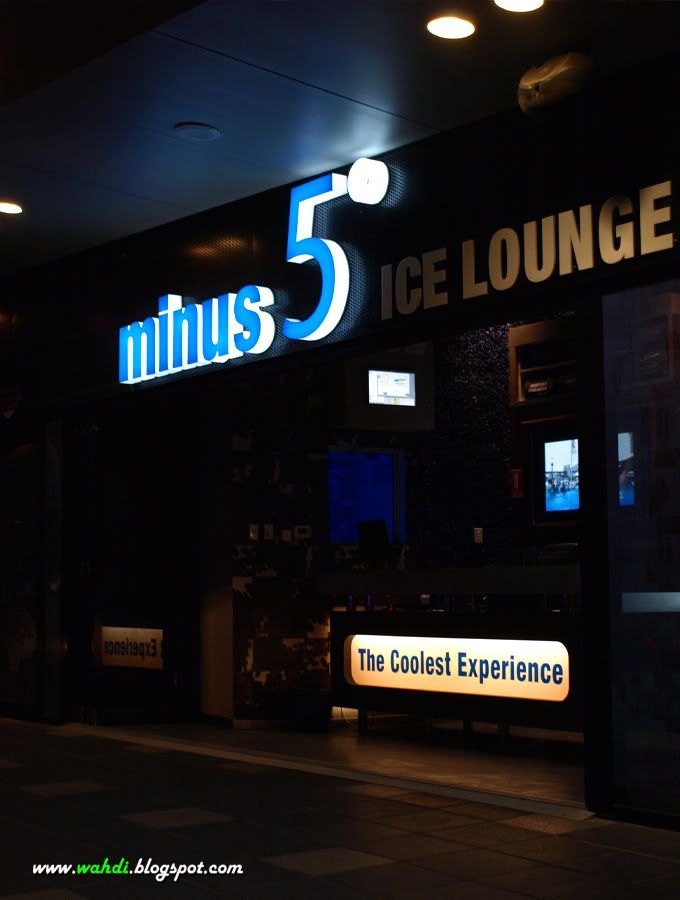 No thanks... It was cold enough outside...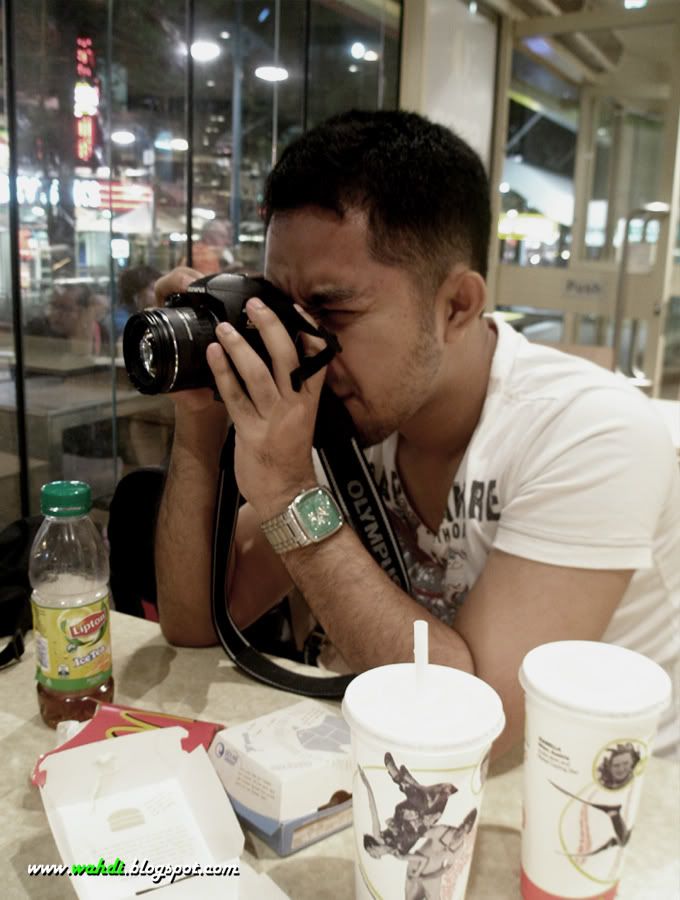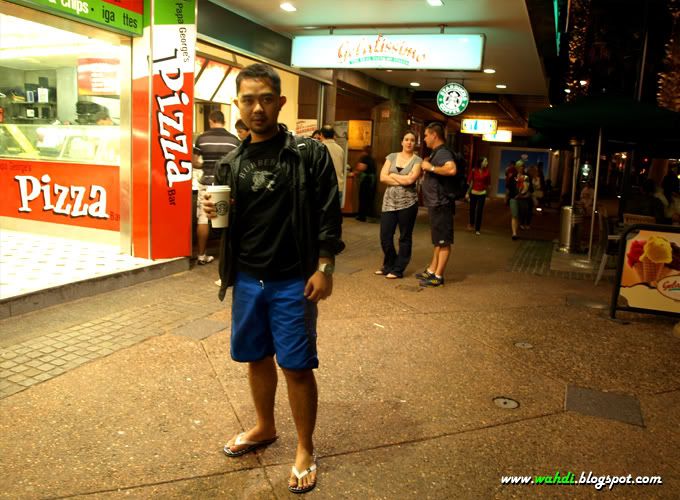 Zarraffa's Cafe was my must-have every night. I stop by here every evening on the way back to the hotel... Too bad their outlet in Sydney was just too way out of town, at Warringah Mall, near Balgowlah...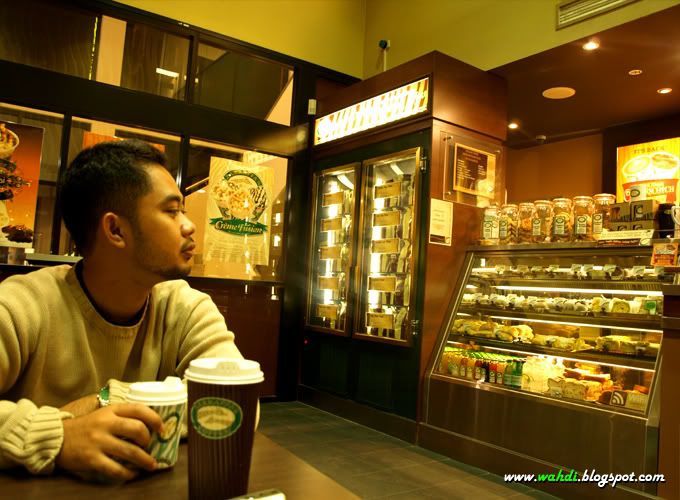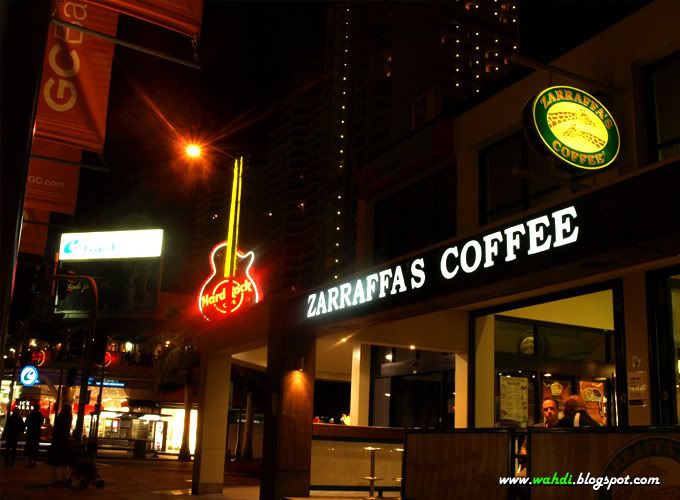 Hard Rock Cafe versus Hard Core Coffee...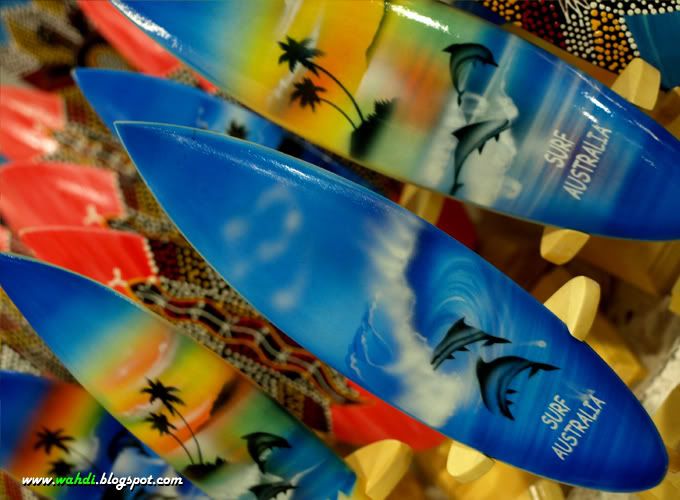 Chevron Island

When first I saw the residental island of Chevron Island, I should make a visit the island during my morning walkabout, and do some photography. Chevron Island was situated just across the river behind my hotel.

I always believe that things around us can be captured nicely, the way we choose to memorialize them...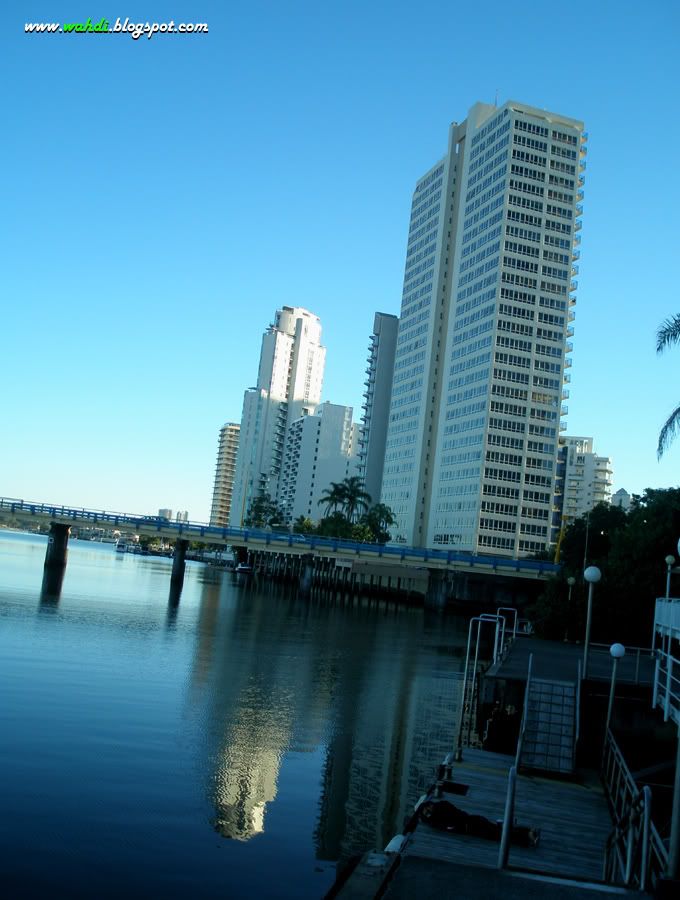 Thomas Drive, the bridge which connects to the island. Look at the picture properly and see if you spotted something!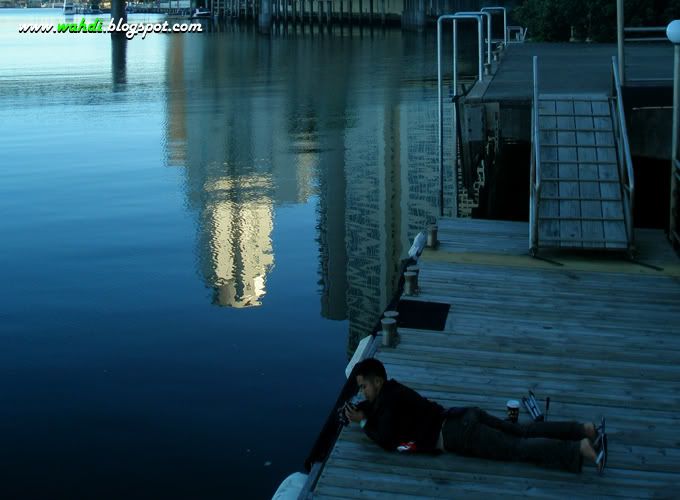 Yeah, that was me lying on the jetty platform! I do not mind lying down, protrude down kneeling, or squat down just to get the view I want! Hehehehe...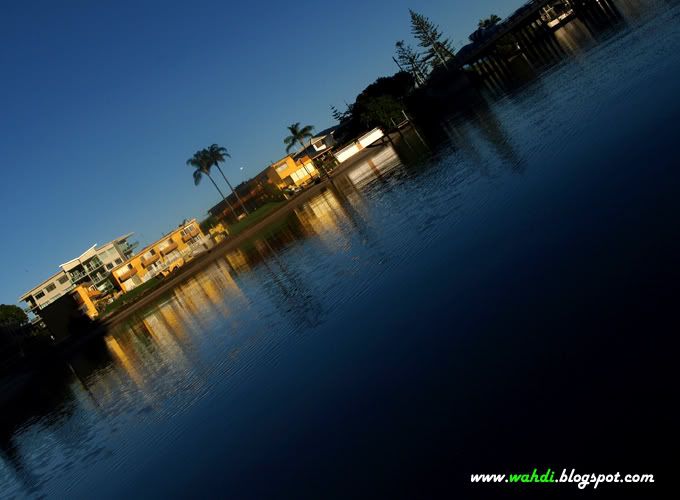 Chevron Island at 7AM...




Look at the tranquaility of the river... The red object in the left is Jetboat EXtreme's jet-powered thrill speedboat...




Coffee by the river...


Some pics from Chevron Island residential area...




The sandy shores of the river Nerang. This is just behind a house. Why can't our Malaysian riverside dwellers keep their backyard river as clean?




Peacefully quiet, although abuzz with activities...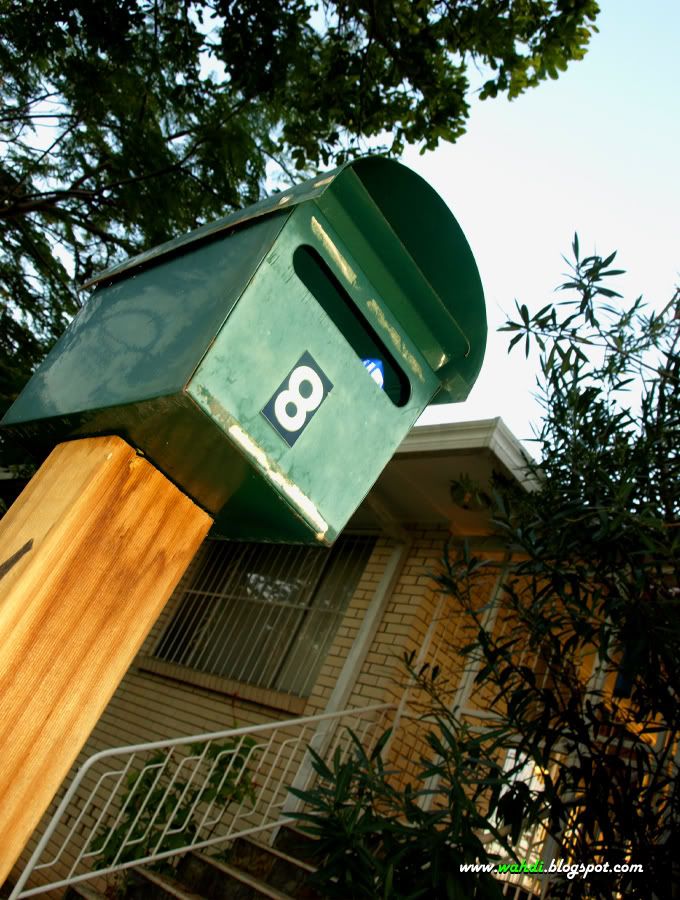 I find this letterbox cute...




From the other side... Did you notice that the number "8" is upside down?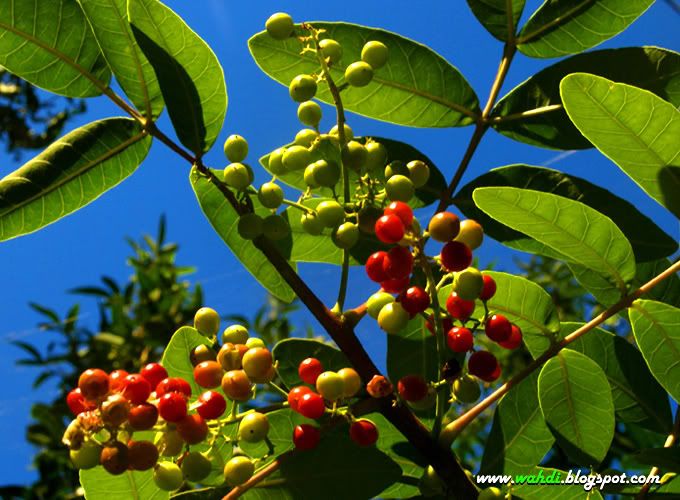 Don't they look delicious? Hehehehe...