This was to be a very exciting activity to me! Everyone on the group got their chance to cast the boomerang! Owh... it was not as easy as I thought! At last, I finally succeeded in putting one in flight, perfectly! (After a few tries) ;)
We didn't see anyone on the field just yet, and we just kept on walking...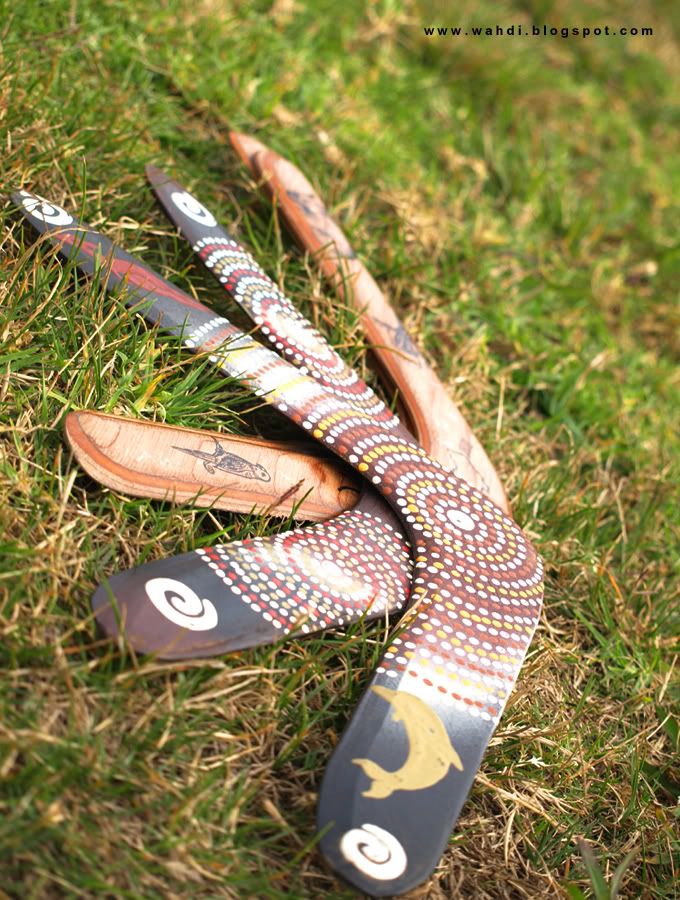 But the boomerangs were already there waiting for us... Hmmm...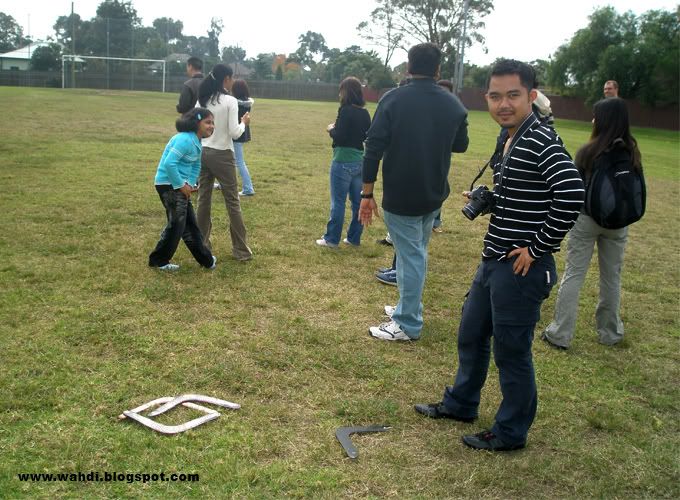 We waited for Mr. Coach to appear.. and waited a bit we did!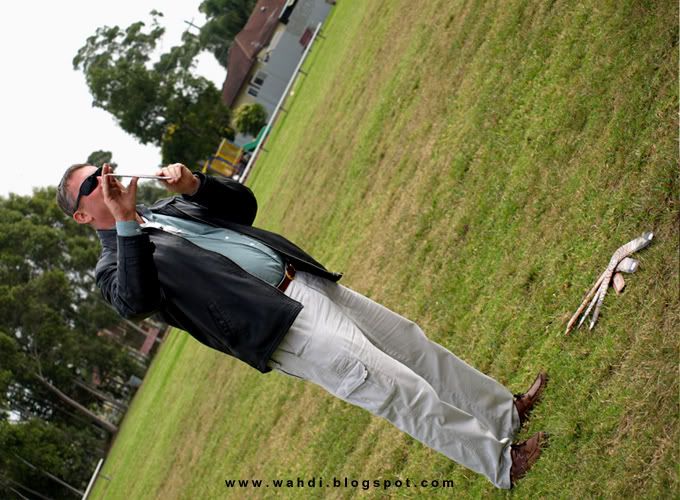 Naaaaa... Mr Coach was actually the bus driver himself! I thought some native aborigine with costumes and all would be teaching us LOL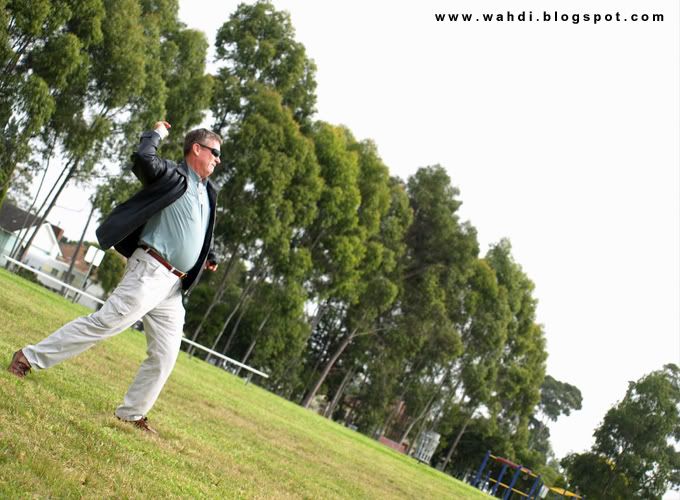 The demonstration. OK.. I got it!
Oh! Like that!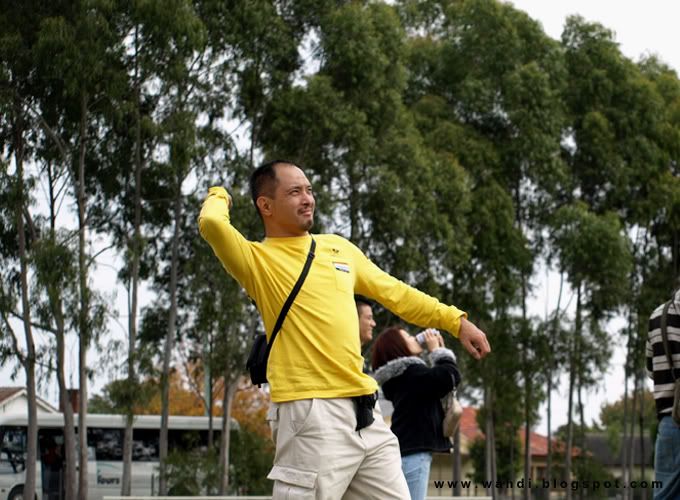 En. Arip's first trial! Huhuhu PERFECT :P I didn't have any pics of me throwing the boomerang, since En. Arip was busy recording me on his DVDcam.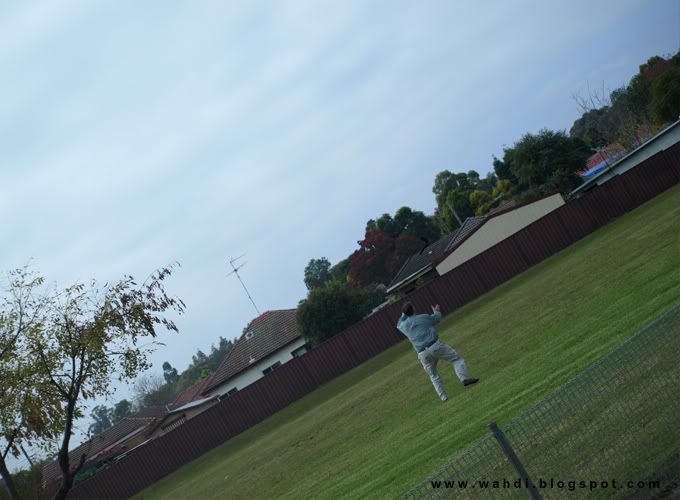 The bus drive a.k.a Mr Coach still showing his skills when most of us were already back in the bus! That was kewl!
After spending for almost 40 minutes there, we moved on with the journey! Next stop was for our lunch break, at a rest house in Wenworth Falls. We have been told by the bus driver that for muslim and vegetarian tourists, they do provide vegetarian food. Not bad! Apart from the delicious food, the scenery at the hill-top rest housel was also very nice!
Some sceneries from my coach: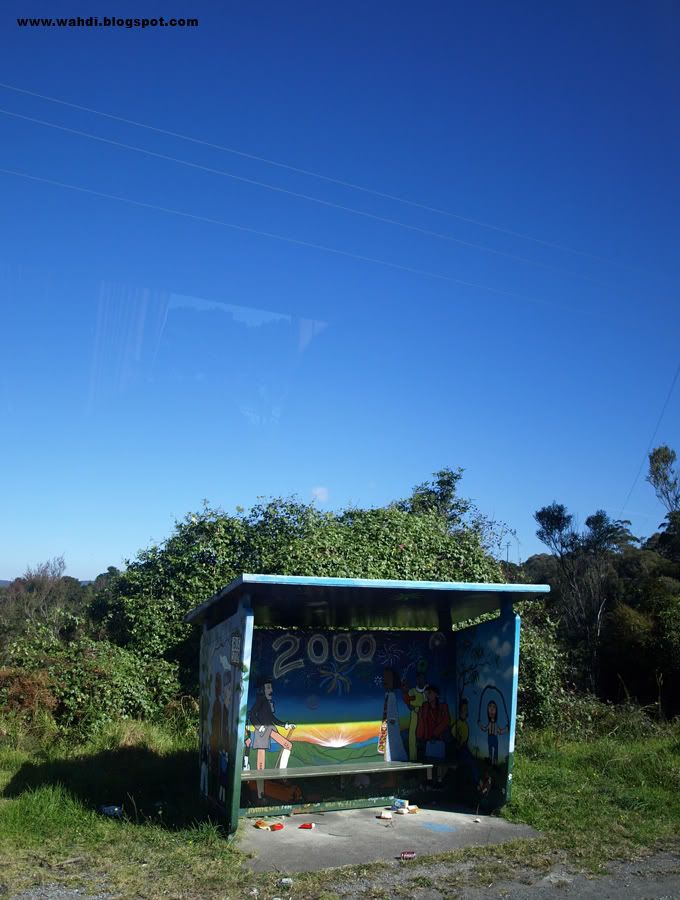 I luv the mural on the bus stop wall!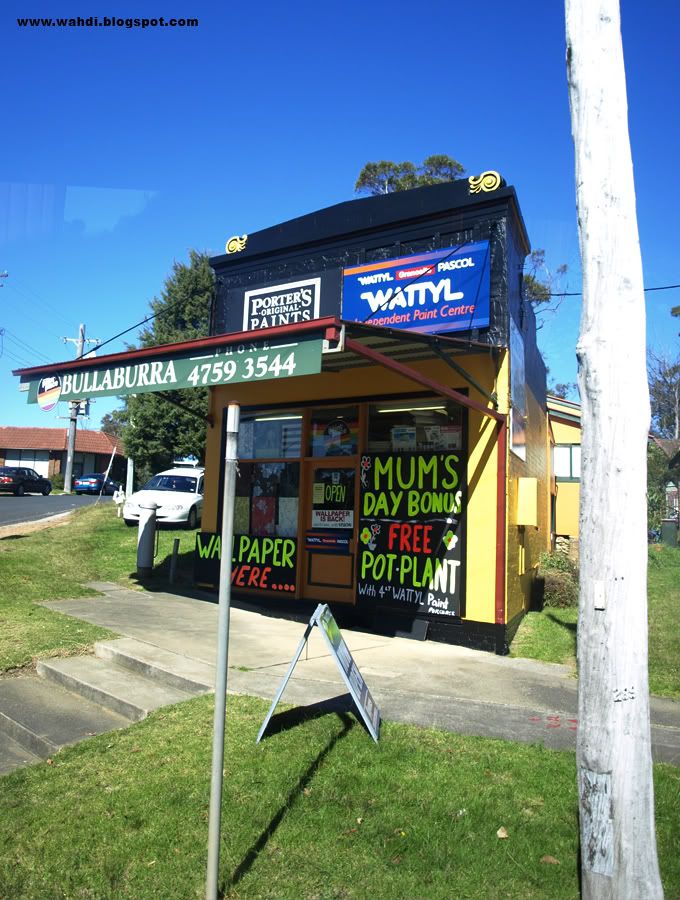 Owh, cute mini shop!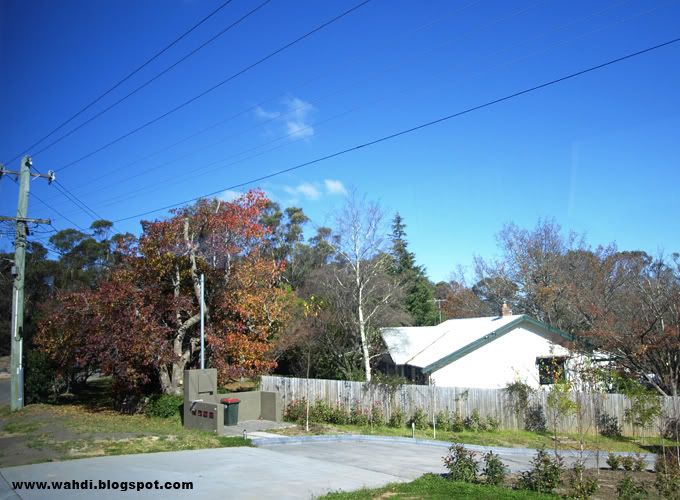 A house near the rest house stop.
Just luv the contrast.
OK... here is the rest house. And I told En. Arip, it was like we were going into a 1970s haunted house! Hehehe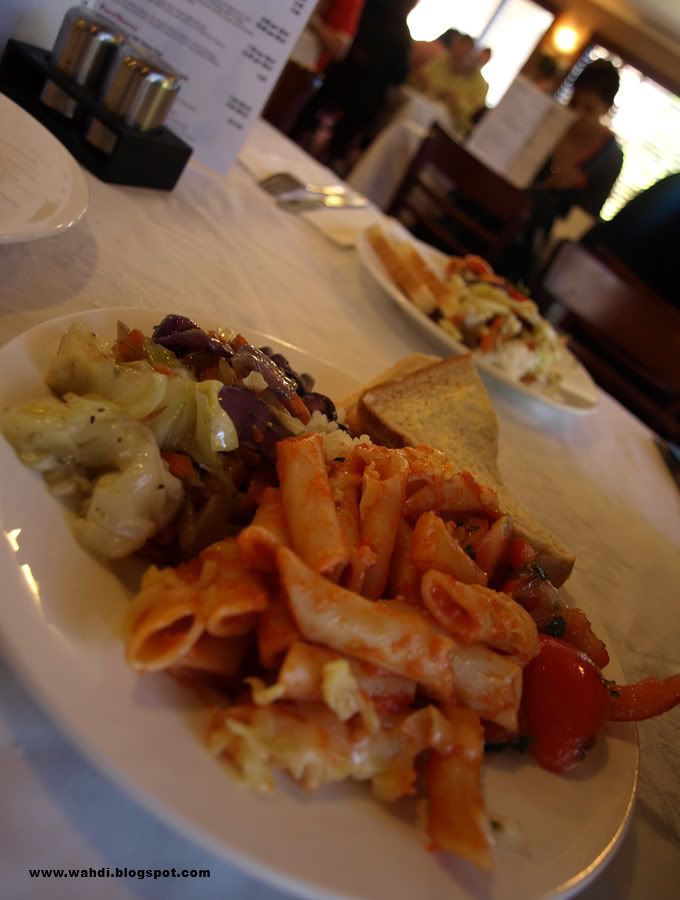 Nevermind the haunted house feel... the food was great! OMG the rice was so delicious! Sticky, creamy and a little bit raw but really nice aroma... But I had forgotten to snap the pic ;)
En Arip also luv the rice so much! See the expression below: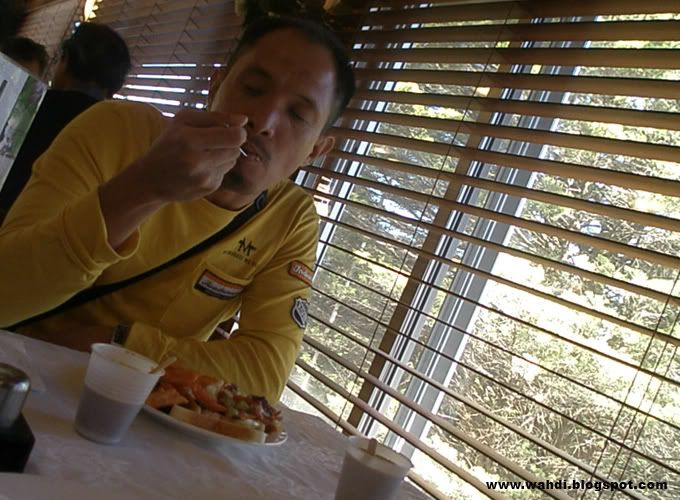 Mmmm.....
While waiting for the others to finish thier lunch, we walked around the rest house.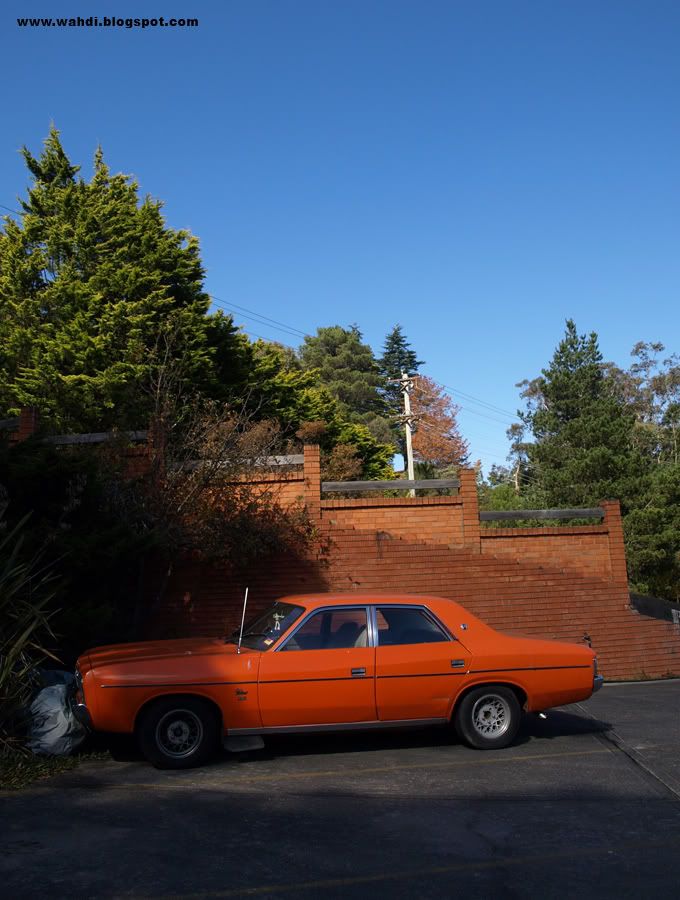 Owh, this orange car really caught my attention! What a good subject matter for photography! And I told En Arip to pose with the car! hehe,
The result:
We continued our journey after the delicious lunch, and reached the small town of Lilianfels Park, by the Three Sisters Echo Point lookout where a skinny koala mascot was already there to give us hugs! ;)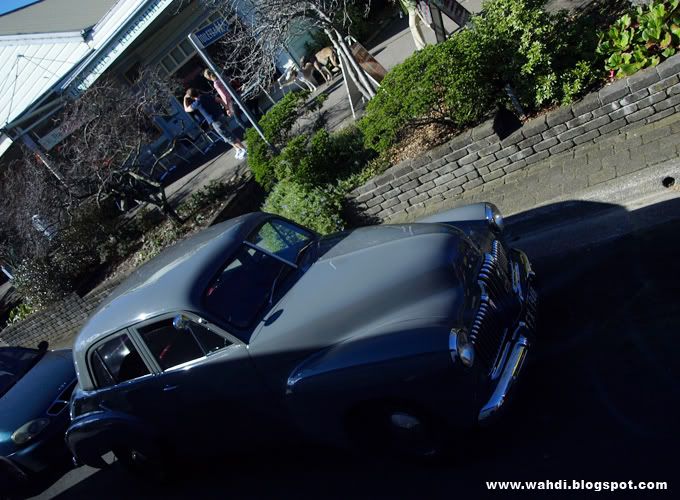 OMG! Isn't that a Holden?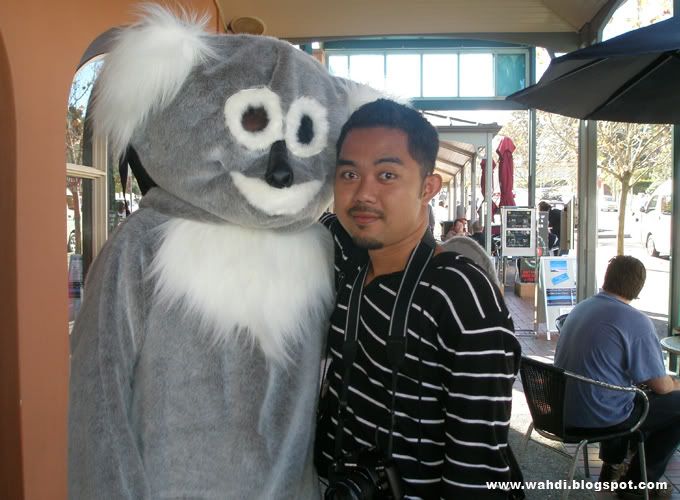 The skinny koala! Huhuhu...Man, this koala was skinny but tall!