The journey from the airport to my hotel took only 10 minutes, made interesting with fabulous sceneries of daily Mykonian life... It was easy to just lose one's thoughts simply watching people living their lives, and before I knew it, we reached the hotel - unimposing yet charmingly perched on a cliff...
I find the hotel somewhat lovely, and quiet... I liked the fact that it was only a five-minute walk from the town and my room balcony was facing the blue Aegean sea, with a commanding view of the Mykonos windmills! The hotel building looks simple from outside but has a really modern and fascinatingly calm interior, more so with its white- color theme... The almost-barren Mykonian ground was made more pleasing with a smartly-tucked lookout pool which faces the expansive sea..
Hotel's entrance... It looks like an ordinary Mykonian neighbourhood bungalow...
The interior...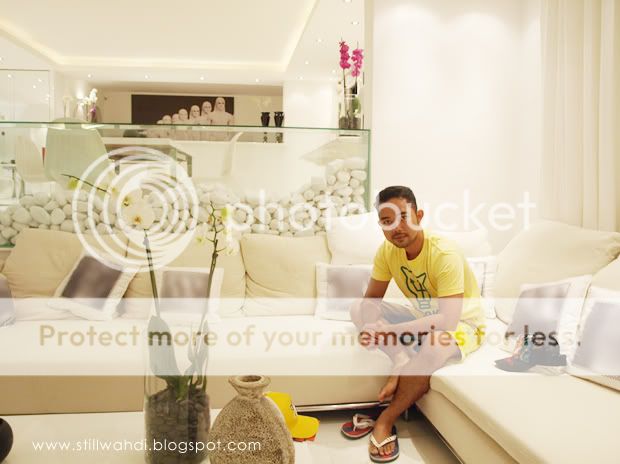 Have to blur out those Greek erotic images on the pillows! LOL!
I like the healthy breakfasts the hotel serves...
Little Venice
Little Venice is one of the most famous Mykonos landmarks, located in heart of the town. And since it was only just five minutes from my hotel, I spent some time there almost everyday - to have my coffee and meals, while watching the sunset and fishing, too! The view from Little Venice was really awesome! It also faces the other famous landmark, the windmills! *will share some Mykonos windmill pictures in another entry...
Anyway, talking about the great coffee in Little Venice, my travel partner Mr Arip had just started his new blog! Feel free to visit his blog at:
www.cafe-elysium.blogspot.com