Enjoying the cruise...
I've planned on writing this entry a long time ago and somehow, it kept slipping out of my mind! Anyway, the trip to Bellagio has to be one of my favourite outings during my tour of Italy. It will be a trip I shall remember for a long time...
I visited Bellagio with my brother - he being the more familiar one... Bellagio is considered the pearl of Lake Como. This old little town is positioned on a promontory where two branches of the lake meet. Interesting? Very.
We took a bus from Milan city to Lake Como. From there, we boarded a ferry to Bellagio. The journey from Milan city to Como took about an hour, the cruise from Como to Bellagio took a leisurely two hours.
On the highway... from Milan city to Como...
Finally... Reached Como town after an hour on the scenic route...

The Cathedral of Como...

The bus stopped us here at the town square, and we went on to buy the ferry tickets. I quickly fell in love with this town - it was exceptionally windy, since it's surrounded by the lakes.
We bought the ferry tickets without much hassle, and I managed to visit some local shops while waiting for the ferry... And just an hour later, we were already on the ferry, enjoying the expansive view of Lake Como en route to Bellagio.
The ferry ride to Bellagio took about two hours, as the passenger ferry needed to stop at every town jetty to pick up passengers along its way to Bellagio. Luckily, there was a cafe on board.

All ready to sail...

George Clooney's villa on the left.

The outstanding Villa Balbianello... I love its garden setting...

Approaching the jetty of Isola Comacina...such a cute Island!


A cup of coffee, and home-made sandwiches... and a perfect setting...


Err... that's a HDcam, not a pair of binoculars...

Some just love the sun... it's after all, the height of summer!

Menaggio jetty...only one stop before Bellagio..
Finally... Bellagio! We just let ourselves get lost in this beautiful town, handsomely tucked among the hills... and emerged much later to have a great lunch!

A quieter part of town, but no lack of charm and serenity...
We had lunch at this restaurant - the Eurona, Bellagio... overlooking the magnificent lake. Here, they served a menu which reflects the summer cuisines of the lake district.
We had a seafood pasta each, and it was yummy beyond words!
We shared a freshly caught salmon trout in herbs. The trout was from Lake Como, and served with buttered rice. Tasty! It's crispy on the outside but tender and juicy inside. I read on the menu which says: "The cuisine of the Italian lake district is one of Italy's best kept secrets". Oh....kayyy!
After the satisfying lunch, we continued exploring the town. To me, the old town was an endless succession of shops! Clothing, accessories, jewelry, souvenirs and craft shops where you can find handmade items in olive-wood, mouth-blown glasswares, leather goods, paintings, watercolors, books and etc.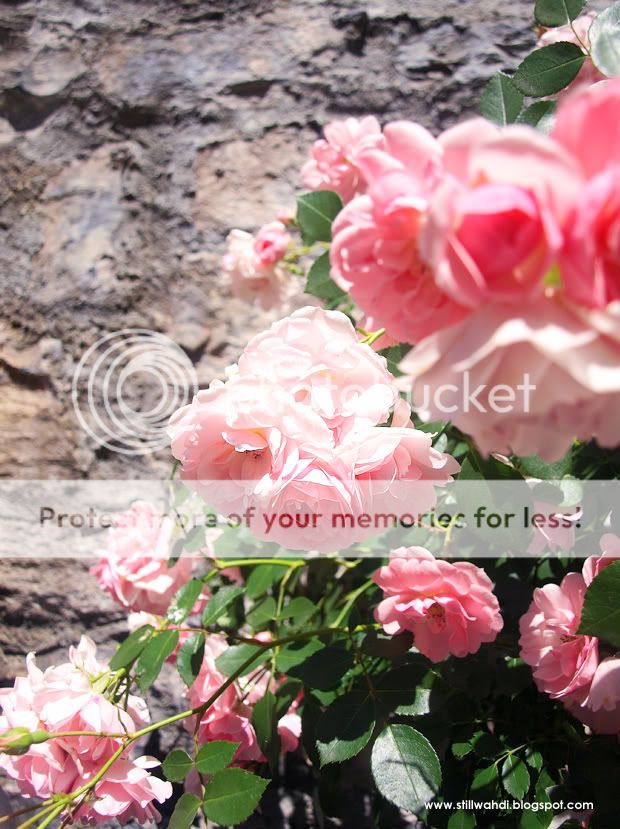 Aaaahhhh..... La bella vita! Such an adorable moment...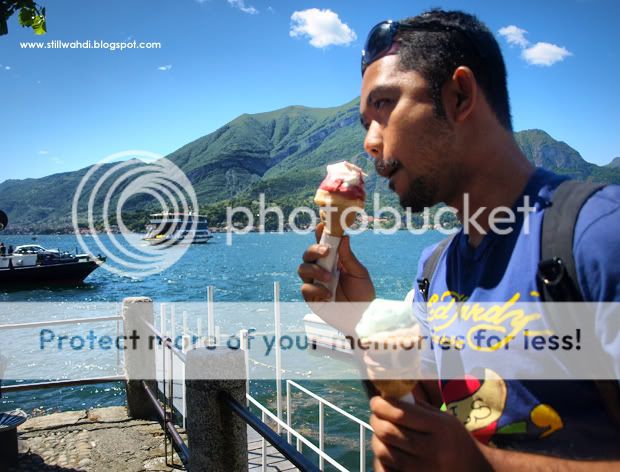 We spent several hours at Bellagio, and only late in the evening did we head back to Milan. While I was enjoying my gelato, I spotted someone familiar!

It's Mr Gurmit Singh, of course! "Mr. Phua Chu Kang" was also enjoying his gelato. We interrupted him for some photos, and he was cool to oblige! And to think we never bumped into him the many times we were in Singapore, and to bump into him in Bellagio!

On the way back to Milan we took a small ferry to Menaggio, just one stop from Bellagio, and managed to visit the glorious Villa Olmo which boasts of its beautiful park and expansive grounds. Luck was on our side: they were hosting an art exhibition which was open to the public. We visited the exhibition and sure enough, everything leads to the concession stand! So, we had some coffee outside the Villa Olmo before boarding the bus back to Milan city.
The grounds of Villa Olmo...
Overall, the trip to Bellagio was simply awesome! Lake Como offers a spectacular, and dynamic landscape while Bellagio tempts you with endless sophisticated shops. Personally, I still prefer
Lake Maggiore
and its flagship town Stresa.